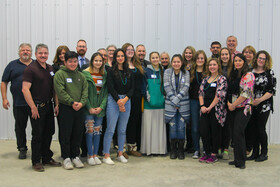 On Wednesday, November 27, nine students from various Northern Lights schools met at the Trades Exposure Centre in Bonnyville for the first Student Voice meeting of the 2019-2020 school year. The goal of the meeting, and the Student Voice progam as a whole, was to help students create opportunities for  the student body to share their opinions and express concerns to the Northern Lights Board of Trustees. 
The students in attendance were:
Arianda - Ecole Plamondon School
Aurora - Ecole Plamondon School
Cordelia - J.A. Williams High School
Courtney - Bonnyville Centralized High School
Jese - Cold Lake High School
Kenji - Cold Lake High School
Lexis - J.A. Williams High School
Sabrina - Bonnyville Centralized High School
Shayla - Glendon School
Six of the nine students that attended were also part of last year's inaugural Student Voice initiative. 
"I wanted to come back because I feel that student voice is a very worthwhile program," said Shayla, who participated in last year's program and is returning for a second year. "Not only are we making differences for students and for the division, but it's also teaching us as people how to pursue things for ourselves and take charge."
Aurora, a newcomer to the program, explained why she decided to become a part of Student Voice. "I just joined Student Union this year, and that's how I learned about Student Voice. I think that's it will be a really good chance to meet with people that represent the school, to gain more people skills, and help make positive changes."
The Student Voice group also had the opportunity to share lunch with the Board of Trustees and Northern Lights Executive.
"The Board needs to hear from the students," Board Chair Arlene Hrynyk told the group. "Our responsibility is the governance of the school division, and we can't do that without hearing directly from the people that matter the most."
Throughout the course of this school year, the Student Voice committee will elicit feedback from their peers on three specific questions:
• What advice would you give to your school and the Board of Trustees on how to improve the mental health and wellness of students?
• How could the effectiveness of Student Councils be improved in your school?
• What information would you like to provide to the board?
After obtaining responses for each of these questions, the Student Voice group will present their findings to the Board and make recommendations based on what they learn.