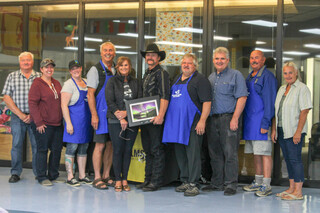 2019 Friends of Education Award Recipients
Steve Charlton
Mr. Charlton is a professional auctioneer who has volunteered his skill and expertise for the past five years to help make the North Star Elementary School Annual Art Auction and Exhibition an overwhelming success. This event has been instrumental in raising many thousands of dollars to support the school's fine arts program thanks in part to the excitement Mr. Charlton generates among the students and families who attend the event.
Money raised at the event has helped the school purchase and use top quality supplies and materials for its Kindergarten to Grade 3 students. The quality and skill of the students' work is impressive and showcases how making an investment in the arts reaps many benefits.
Mr. Charlton does not have children attending North Star, yet he is committed to the event and the school. He said said he would be disappointed not to be involved, as it is his favourite auction to call.
Without Mr. Charlton's support, the students at North Star would not have access to the same quality of fine arts programming they have enjoyed, and would not have achieved the level of success and enjoyment they have experienced as young artists.