Report cards for students in grades 1-12 are now available through the PowerSchool Parent Portal. You must use a web browser to access report cards. They are not accessible through the Parent Portal app.
Step One
Log in to the Parent Portal.
If you have forgotten your username or password, you can use the "Forgot Username or Password?" link.
If you are still having difficulty logging in or if you do not have a Parent Portal account, please contact your child's school for assistance.
Step Two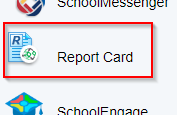 After logging in to the Parent Portal, you will see a report card link on the left. Click on it.
Step 3
Report Cards are listed by school year, with the current year showing as the default year. Choose the report card you wish to view.
Step 4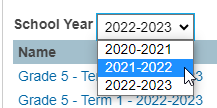 If you would like to view a report card from a previous year, change the School Year in the drop down menu. Click on the report card you would like to view and the report card will open in a new tab in your web browser.
Step 5
Your web browser should give you options to print the report card or save it as a PDF file so you have a digital copy for your records.
If you are unsure how to print or save as a PDF from your computer, the following website has instructions for different web browsers: Computer Hope - How to Print a Webpage
Important Notes
Once your child is no longer an NLPS student, you won't have access to report cards through the PowerSchool Parent Portal, so if you want a paper or digital copy, you will need to follow the steps above.