Our Mental Health Team (Student Advocacy Counsellors and Successful Families, Successful Kids Wellness Coaches) has developed a number of resources to share with families and support student wellness.
Most resources have been organized into categories that align with our monthly themes or other topic areas. Other activities or resources that don't fit into those categories have been shared below.
The following links may be helpful to parents: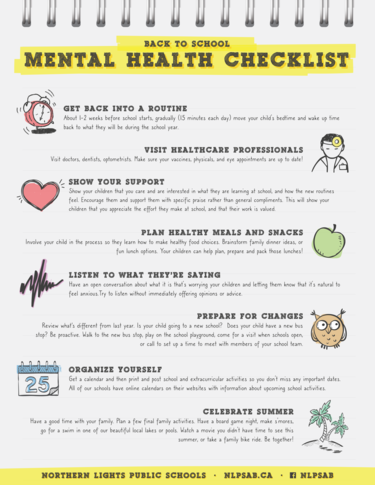 Getting ready to head back to school can be exciting, but it can also be stressful. Check out our Back to School Mental Health Checklist for tips on how to reduce stress and anxiety for your children and yourself as you prepare for the start of a new school year.
Get back into a routine. About 1-2 weeks before school starts, gradually (15 minutes each day) move your child's bedtime and wake up time back to what they will be during the school year. Need tips for helping your child get a good night's sleep? The My Health Alberta website has some great information.


Visit health care professionals. Visit doctors, dentists, and optometrists. Make sure everything is up to date! 


Show your support.
Show your children that you care and are interested in what they are learning at school, and how the new routines and regulations feel. Encourage them and support them with specific praise rather than general compliments. This will show your children that you appreciate the effort they make at school, and that their work is valued.


Plan healthy meals & snacks. Involve your child in the process so they learn how to make healthy food choices. Brainstorm family dinner ideas, or fun lunch options. Your children can help plan, prepare and pack those lunches!


Listen to what they are saying. Have an open conversation about what is worrying your children and let them know that it's natural to feel anxious. Try to listen without immediately offering opinions or advice.


Prepare for changes. Review what's different from last year. Is your child going to a new school?  Does your child have a new bus stop? Be proactive. Walk to the new bus stop, play on the school playground, come for a visit when schools open, or call to set up a time to meet with members of your school team. 


Organize yourself. Get a calendar and then print and post school and extracurricular activities so you don't miss any important dates. All of our schools have online calendars on their websites with information about upcoming school activities.


Celebrate summer. Have a good time with your family. Plan a few final family activities. Have a board game night, make smores, go for a swim in one of our beautiful local lakes or pools. Go see that movie you didn't have time to see this summer, take a family bike ride or visit a local attraction like a park or museum. Be together.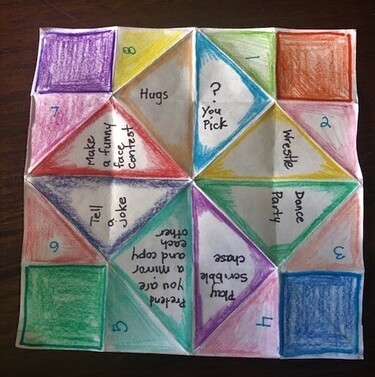 Learn how to make a "fortune teller" to practise positive mental health strategies with our Mental Health Foldable - Fortune Teller. We have one for parents to create with their younger children and one older children can make themselves.
Reading Books for Social Emotional Development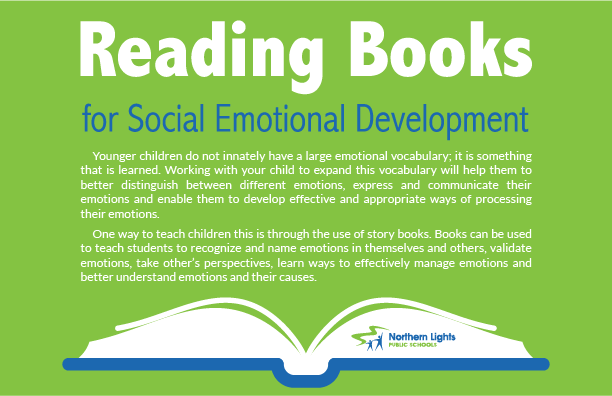 Our Reading Books for Social Emotional Development guide provides information on how you can use books to teach emotions, recommendations for books that support social emotional learning, and other activities that focus on learning about emotions.
Click on the picture to access a downloadable copy.
Our Successful Families, Successful Kids team has developed a series of Scavenger Hunts that promote different aspects of Mental Health and Wellness. Choose one and see how many items you can find!
Use these two Scavenger Hunts to go around your home or the outdoors and find items that match each colour. See how many things you can find!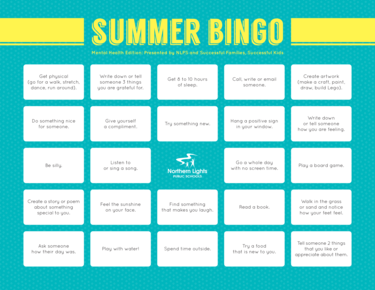 Looking for some fun activities that will also keep your mind healthy and strong? Try out our Summer Bingo - Mental Health edition.
Click on the picture to download the Bingo Card.
You can also view the videos as they are released on the 2020 Summer Bingo Challenge playlist on our YouTube channel.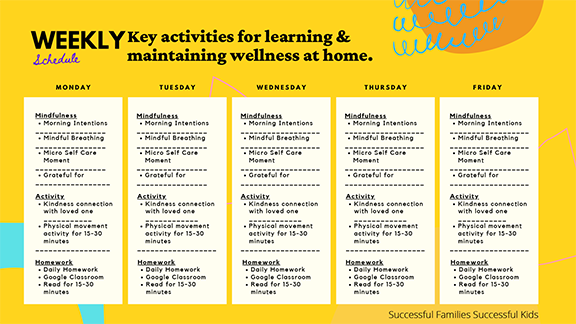 Our Weekly Wellness Schedule can help you structure your day while incorporating mindfulness, physical activity and gratitude.
Click on the picture below to access a downloadable version.