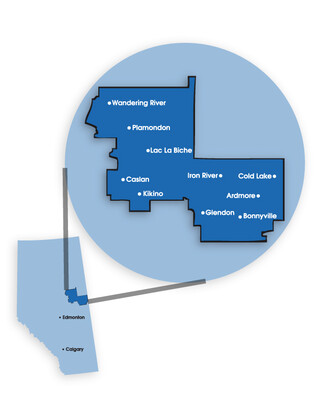 Northern Lights Public Schools is located in northeastern Alberta in the heart of the Lakeland region. It stretches from the Saskatchewan border on the East to Highway 63, which runs through Wandering River, on the West. Altogether the division spans over 200 kilometres from Cold Lake to Wandering River and covers a geographic area of 14,800 square kilometres. The area is noted for its natural beauty, numerous multi-season outdoor recreational opportunities, and abundant wildlife.
We provide a variety of education options to families through our 27 schools, including six
outreach schools and our new Learning Together Anywhere School which provides families with an alternative to in-person classes. We serve approximately 5,800 students located throughout the Lakeland. Our schools are located in Bonnyville, Cold Lake, Lac La Biche, Glendon, Plamondon, Ardmore, Caslan, Iron River, Wandering River, Kikino Métis Settlement, Buffalo Lake Métis Settlement, Fishing Lake Métis Settlement and the Pine Meadow Hutterite Colony. In addition, Northern Lights Public Schools provides services to students from Beaver Lake Cree Nation, Cold Lake First Nations, Elizabeth Métis Settlement, Frog Lake First Nation, Heart Lake First Nation, Kehewin Cree Nation and White Fish First Nation. The Youth Assessment Center in Lac La Biche is operated by Northern Lights Public Schools under a contract with the Alberta government.
The Lakeland region enjoys a diverse economy largely comprised of oil and gas, agriculture, forestry, hunting, fishing, trapping and tourism sectors, as well as 4 Wing Cold Lake. The downturn in the oil and gas industry has negatively impacted the economy of the region, as well as school enrolment. The area is also very culturally diverse, including several First Nations and Métis communities, as well as other cultural groups that either settled in the area as early pioneers, or have moved into the area more recently due to economic opportunities.
It is within this geographical, economic and culturally diverse region that Northern Lights Public Schools offers a robust Kindergarten to Grade 12 education system that aspires to ensure every student learns and every student excels.