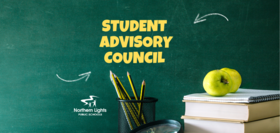 Students were the focus today as the NLPS Board of Trustees met with its new Student Advisory Council for the first time this year.
"Students are most impacted by the decisions we make as a Board, so it's important that we provide them with opportunities to share their thoughts on what is important to them," said Board Chair Karen Packard.
The Student Advisory Council to the Board consists of approximately 60 students in grades 5-12 from across the division. Today's meeting with trustees was held at two different sites: J.A. Williams High School for students from the Lac La Biche region, and the NLPS Division Office in Bonnyville for students from the Bonnyville and Cold Lake regions.
In the morning, students discussed school culture and climate and what actions they feel enhance each of them at their schools. They also provided the Board with suggestions to improve school culture and climate. This included more universal supports for students, access to nutritious food, more diverse programming and the resources to support that, and more options for extracurricular activities.
"The students demonstrated great compassion for their peers and a deep understanding of the importance of building relationships, not just between staff and students, but with other students within a school, and between schools in a community," said Packard.
After lunch, students discussed how to define student success and what could be done to improve opportunities for students to be successful. Their suggestions included greater understanding and more supports for students with diverse learning needs, a greater focus on life skills, more academic and career counselling supports, more support for transitions between schools, greater access to tutoring supports, and continuing to provide students with access to the division's Mobile Trades Lab.
"The students were very open about what they feel is working well in our schools as well as the challenges they are experiencing," explained Packard. "We appreciate their willingness to share their stories and their feedback on how we can improve."
The council will meet with the Board again in May to provide more input.
Student Advisory Council 2022