Board shares actions with Student Advisory Council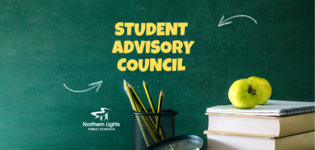 Your voice matters. That was the message the NLPS Board of Trustees shared with students during its second Student Advisory Council to the Board meeting this year.
"We are listening and we are taking action to address the things that you told us would make a difference for students in the division," said Board Chair Karen Packard. 
The first meeting of the Student Advisory Council took place in December and focused on school culture and student success. The students identified issues with school cleanliness, inconsistent behavioural expectations and application of rules, lack of choice in non-core courses, bullying in some schools, the need for diversity in extracurricular activities, and transitions between schools and after graduation.
After reviewing the student feedback, the Board developed a series of actions designed to make improvements in those areas. This includes the revitalization of Positive Behaviour and Intervention Supports programs in the division's schools, a focus on improving cleanliness at schools, increased academic/career counselling, the establishment of academic counsellor protocols with a focus on transitions between schools, enhanced student leadership programs, establishing a high school redesign model in high schools, and revitalization of the Board Initiatives policy to support projects within schools.
At the latest meeting of the Student Advisory Council to the Board, held on Thursday, May 11, the students tackled two new topics: student leadership and how the division could improve opportunities for students to have input into school operations; and how to encourage staff to become more active in extracurricular activities.
"The Board always enjoys our conversations with students," said Packard. "It was great to hear them sharing their experiences and learning from each other. Their feedback was very thoughtful and insightful and we received a lot of great suggestions for us to consider as we move forward."
The Student Advisory Council to the Board consists of approximately 60 students in grades 5-12 from across the division. The meetings with trustees were held at two different sites: J.A. Williams High School for students from the Lac La Biche region, and the NLPS Division Office in Bonnyville for students from the Bonnyville and Cold Lake regions. This was the final meeting of the 2022-2023. 
Student Advisory Council - May
Posted on