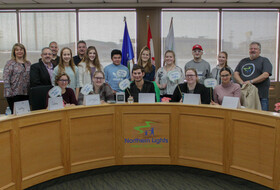 NLPS students will be asked to share their thoughts on what impacts their success, what causes them stress, and what changes could be made to improve those areas in the #wewantyourvoice Student Survey launching on Monday, November 26th.
The survey is part of the work being done by the Student Voice to the Board committee, which met for the first time on Wednesday, November 21 to discuss how they can bring the voice of students throughout the division to the NLPS Board of Trustees.
"I think student voice is important because students are the most impacted by these decisions and may be the very solution to big and little problems in the schools," said Courtney from Bonnyville Centralized High School. 
"Having the opportunity to have our voice be heard and our perspectives be acknowledged made me very happy," said Kenji from Cold Lake High School. "Nothing is better than having your opinions heard and seeing how you have made an impact or will make an impact."
The Student Voice to the Board committee is made up of 12 students, two from each of the division's high schools: Bonnyville Centralized High School, Cold Lake High School, Ecole Plamondon School, Glendon School, J.A. Williams High School, and Northern Lights Outreach School. They will meet with the Board several times this year to share feedback they have gathered from students at their schools.
"Whenever the Board makes a decision, we ask ourselves what is best for our students," explained Board Vice-Chair Michael Topylki, who met with the students on Nov. 21. "So it is important to us that we hear from students about what their needs are and possible solutions they have to the issues that effect them. We want them to have the opportunity to assist in shaping the future of education in Northern Lights Public Schools."
They #wewantyourvoice Student Survey will be distributed to all NLPS high school students early next week. Students will have until Dec. 3 to complete the survey and to enter their name in a draw for a special prize.
The Student Voice to the Board committee will present the survey results to the Board of Trustees at its December 14 board meeting in Lac La Biche.