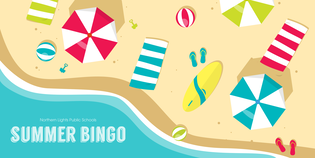 Have some fun with us this summer and take part in our Summer Bingo Challenge!
We've created two bingo cards full of fun activities for students to complete -  one with a numeracy theme and one that focuses on mental health and wellness.
How to Play
Download and/or print the bingo card(s).
Mark or cross off the activities that you complete.
Share photos (or have your parents share photos) of you participating in the activities on Facebook, Twitter or Instagram with the hashtages #NLPSNumeracy #LoveYourMind #NLPSMentalHealth (this is not required to enter your name in the prize draw).
When you complete the card, take a screenshot, picture or scan the card and email it to communications@nlsd.ab.ca with your name, grade and school. You will be entered to win a prize.
Each card can only be submitted once per student.
The deadline to submit your completed cards is Friday, August 21, 2020.
Follow us on Facebook, Twitter and/or Instagram to see our student volunteers take on our Summer Bingo challenges! We'll be posting one video every day featuring one of the activities on our bingo cards. You can also view the videos on our 2020 Summer Bingo Challenge playlist on our YouTube channel.
Here is our first video:
Posted on