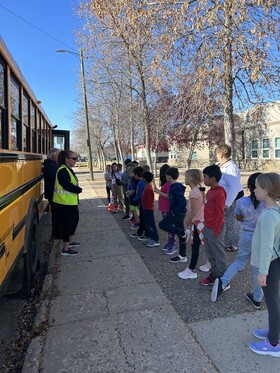 The rideSAFE program has returned to Northern Lights Public Schools for another year, just in time for School Bus Safety Week, October 15-21.
On October 12 and 13th, students at Duclos School in Bonnyville had the opportunity to learn about school bus safety, their responsibility as riders, bus rules, and what they need to do if they need to evacuate the school bus. The program will be delivered to students at North Star Elementary School in Cold Lake on Oct. 19th and 20th.
rideSafe is a school bus safety program developed by NLPS and delivered by the division's Senior Driving Instructor. It uses a combination of classroom instruction and practical exercises on a school bus to teach Kindergarten-Grade 6 about school bus safety. 
"It's important that our students feel safe on our buses, and know what to do in case there is an emergency," said Superintendent Rick Cusson. "We want everyone to get to school safely in the morning and arrive home safely in the afternoon."
NLPS offers rideSAFE at its schools to coincide with Bus Safety Week. The provincial focus this year is "Stand Back from Yellow and Black," which highlights the importance of standing far enough away from a bus to be seen by the driver. The recommended minimum distance is 10 feet. 
The Northern Lights Public Schools Board of Trustees continues to advocate for enhanced safety for school buses, including making external cameras on buses mandatory and funding to pay for those cameras. Cameras can be helpful in dealing with fly bys and other incidents that occur on local roads.
"Fly bys have been a concern for the Board for many, many years," explained Board Chair Karen Packard. "Despite many public awareness campaigns, we continue to receive reports of fly bys on a frequent basis. This creates a dangerous situation for our students who may be exiting a bus or crossing a street or highway."
Fly bys occur when vehicles pass a bus that is stopped with its red lights flashing and stop arm extended. This means that students are either getting on or off the bus. In some cases, they may need to cross the road to get to or from the bus. Drivers who do not stop for a bus with its lights flashing could receive a $567 fine and lose 6 demerit points from their license.
Drivers should also be aware of local school zones and crosswalks, and avoid parking in school bus loading zones. 
"We need everyone to work together to help keep our students safe as they are travelling to and from school whether they are walking or biking or riding the bus," said Packard.