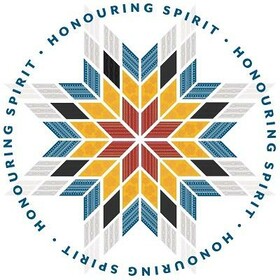 Northern Lights Public Schools would like to congratulate two outstanding students who have been recognized by the Alberta School Boards' Association (ASBA).
On Saturday, Korianna Ballard, a Grade 3 student at Ardmore School, was presented with the Honouring Spirit: Indigenous Student Award. Each year, the ASBA recognizes 12 students for their exemplary leadership, honour, courage and commitment to their own education path. Nataliah Bigstone, a Grade 8 student from H.E. Bourgoin Middle School in Bonnyville, received an Honourable Mention.
"We are thrilled that the ASBA selected Korianna to receive this award in recognition of the many ways she shares her culture and models kindness for others," said Board Chair Karen Packard. "We are proud to have Korianna and Nataliah as students in our division and we are  grateful that they have chosen to share their knowledge and culture with other students."
Korianna was nominated for the award by her homeroom teacher, Chantel Pitcher, who said she is known for her random acts of kindness in the school and her community. When the school was creating Christmas hampers earlier this year, Korianna donated bath bombs to add to each basket as a treat for the families who would receive them. She also donates special hand soap and lotion to make handwashing at the classroom sink, draws and colours thoughtful pictures that she shares with her classmates and staff, and often assists classmates with their work.
Pitcher said Korianna also eagerly embraces and models her cultural identity. She proudly wears her ribbon skirt to school and happily tells students and staff what the skirt represents and why she enjoys wearing it. This year she created a presentation to help her classmates learn more about Dene culture. She discussed the history of how her people lived off the land before Canada became a country. She also introduced her classmates to the Dene language, teaching them a few words, sharing the alphabet with them, and showing them an app they could use to learn to speak Dene at home. She also brought in mitts, mukluks, her headband and ribbon skirt, explaining how each was made, and talking about the bead work and symbolism of the items.
"The students left for home eagerly talking about how they couldn't wait to try out the app to learn to speak Dene. They also wanted to learn more about their own cultures. It was wonderful to see the positive impact that Korianna has on others," said Pitcher. "The impact she has had on our school and community will continue to grow with each year and I am so grateful to be a part of her journey."
Nataliah Bigstone was nominated for the Honouring Spirit Award by H.E. Bourgoin Middle School Principal Tracy Casselman and teacher Teri Huntley.
"Nataliah stands out to me and other staff as a youth who has pride in her culture, educates others, embraces her own strengths, and is true to her authentic self," said Casselman.
Casselman explained that Nataliah is a role model for other students, who often go to her for strength and assistance with problems they are dealing with.
She also regularly celebrates and shares her culture at school, including wearing her ribbon skirt and traditional jewelry to events. She teaches others about the significance of the items she wears and how they are made. She also makes Bannock and shares it with her classmates, and won the class Bannock Bake-Off.
Nataliah says she likes to spread an awareness of her culture by explaining what things mean.
"For instance, I like to explain what smudging means and how it gets rid of bad energies and purifies. It brings everything good around," she said. "I like to tell people about how my Kokum runs a camp and Kehewin and we learn about the 7 Teachings. Elders come and tell experiences and about their lives."
Nataliah serves on two leadership committees at HEB – Community Helpers and the Journeys Leaders group. Both promote mental health and wellness and serve to create pathways of hope for diversity and empathy in the school community.
Korianna and Nataliah will be celebrated at their schools during ceremonies being held this week.
For more information about the Honouring Spirit Awards, please go to: 12 Alberta students recognized with provincial 2022 Honouring Spirit: Indigenous Student Awards