New Principal for Iron River School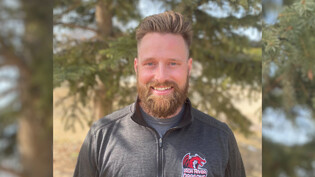 Northern Lights Public Schools is pleased to announce that Dustin Blake has been appointed Principal of Iron River School for the 2022-2023 school year.
"Throughout his time with NLPS, Dustin has shown a commitment to engaging students and building strong relationships with families and the community," said Superintendent Rick Cusson. "He is focused on providing students with opportunities to excel both academically as well as through extracurricular activities, and connecting with all stakeholders to enhance the opportunities available to students."
Mr. Blake began his career with Northern Lights as a student teacher at Iron River School. After graduating from the University of Alberta with a combined Bachelor of Education/ Bachelor of Physical Education degree, he worked as a Grade 1 teacher at Duclos School before taking on the role of Physical Education teacher at H.E. Bourgoin Middle School in Bonnyville. 
In 2017, Mr. Blake transferred to Iron River School where he has taught grades 5-8 math, science and physical education. He also coaches cross-country running, mountain biking, volleyball, basketball and track and field, and serves as President of the Lakeland Schools Athletic Association. 
"I am so excited and blessed to be the new principal at Iron River School!" said Mr. Blake. "This entire school community means so much to me, and I will do my best to make sure that it continues to be an amazing place for students to reach their greatest potential."
Posted on