Back to News
New Assistant Principal for H.E. Bourgoin Middle School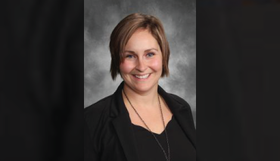 Northern Lights Public Schools is pleased to announce that Nicole Yadlowsky has been appointed Assistant Principal of H.E. Bourgoin Middle School for the 2021-2022 school year.
"Nicole is an experienced administrator who is committed to ensuring students have the supports they need to be successful in their learning journeys," said Superintendent Rick Cusson. "In addition to working collaboratively with stakeholders at her current location, Nicole has been involved in several initiatives, including providing professional development for staff that have impacted students throughout the division."
Yadlowsky is currently the Assistant Principal at Glendon School, a role she has held since 2012. Prior to that she was a vice-principal and teacher in Lashburn, SK. During her time at Glendon School she served as the school's literacy support teacher, Student Support Team (SST) Coordinator and high school career/academic counsellor in addition to teaching a variety of different subjects at almost every grade level in the Kindergarten to Grade 12 school. She has also served on several division committees, including the division's numeracy cohort and progress report committee. In 2017, Yadlowsky earned a Masters of Education with a focus in Educational Studies from the University of Alberta.
"I am thankful for my time spent in the community of Glendon and the connections made with students, staff and their families," said Yadlowsky. "The past nine years working at Glendon School and Pine Meadow Hutterite Colony has allowed me the opportunity to work closely with students from preschool to Grade 12.  Thank you to all of the students, staff and families that I have been fortunate to work with during this time. I am excited to join the team at H.E.Bourgoin Middle School and look forward to this experience, and to continue working in a new capacity within Northern Lights Public Schools."