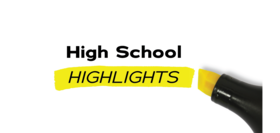 As we approach the Christmas break followed by the end of Semester I, we wanted to share some information with the families of our high school students about upcoming programs and opportunities. If you are interested in any of the courses mentioned below, please contact your school's Career Counsellor.

COMP 105 Introduction to Computing and Information Systems
NLPS partnered with Portage College to develop this new three-credit course that covers the fundamentals of information systems. This is a dual credit course that provides students with credits towards graduation, as well as college credits and preparation for further study in computer science. The first cohort of this course starts in February. 
If your high school student is interested in computer science they may also be interested in Computer Science Coding and Robotics, which is offered as a free University Transfer Course through Portage College. This is also a 3-credit course, and provides students with an opportunity to explore computer science, coding and robotics.

Free University and Dual Credit Courses through Portage College
Computer Science and Robotics is one many university and college courses available to our high school students through Portage College. The college offers students the opportunity to take one 100-level university course for free each semester. This is a great way for students to earn high school credits while getting a head start on their post-secondary education, or exploring an area of study they might be interested in after graduation. 
There are university transfer courses available in Anthropology, Art History, biology, Chemistry, Earth Sciences, Health, Math, Psychology, Sociology and more.
Students can also take college courses in Business, Educational Assistant, and Early Learning and Child Care, as well as Cree 101, another dual credit course developed in partnership with NLPS.
For more information, check out Opportunities for High School Students on the Portage College website and talk to your school's Career Counsellor.

Scholarships and Awards
Students who are intending to pursue post-secondary studies, are encouraged to apply for bursaries and scholarships to help cover the costs of their education. The Student Scholarships and Awards section of the NLPS website highlights many local and regional scholarship available to NLPS students. Some of these have deadlines approaching in January and February, and others will be sharing information in the new year about how to apply for funding for 2023-2024.
Here are a few scholarships and awards with deadlines early in the new year:
Many of our high schools also partner with local businesses and organizations to offer scholarships specifically to students from our schools or communities. Information about those scholarships is available on the schools' websites or by asking your school's Career Counsellor.
There are numerous scholarship databases with extensive lists of scholarships and bursaries available to high school students. We have shared a list on our NLPS website, and your school's Career Counsellor will have access to even more resources.