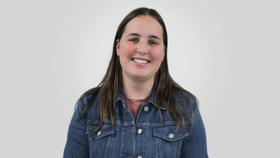 The Northern Lights Public Schools Board of Trustees is pleased to announce that it has selected Alyssa Bucyk as the Division's nominee for the Edwin Parr Award for outstanding first-year teachers.
Ms. Bucyk teaches Music at H.E. Bourgoin School and joined Northern Lights in January, 2021 after graduating from the University of Alberta with a dual degree in Kinesiology and Education. 
"It's such an honour to be nominated. It's all very surreal and exciting" said Ms. Bucyk. "I love our team here at HEB, we have such a great community and work really well together. I am so supported by our admin team, and all the other teachers. This is the kind of teaching environment that you dream of, and it's a very positive experience."
Coming from Edmonton, Ms. Bucyk is a multi-instrumentalist whose passion for music drives her students towards success. 
"Any student who wants to be in band is welcome and encouraged to be there. Anybody can learn music and be successful with the right care and support, and that's what I teach my students," she said.
Ms. Bucyk said the thing that brings her the most joy as teacher is seeing students learn and excel in ways that they had not thought possible.
"I took music and band all through school, and I think music education is extremely important. It has such a positive influence, and I'm so proud of all of my musicians and they progress they've made," she said.
As part of Ms. Bucyk's nomination for the Edwin Parr Award, H.E. Bourgoin Principal Tracy Casselman noted that Ms. Bucyk's ability to bond with her students, and her empathetic nature towards those who need some extra care and attention, has made her a crucial part of the H.E.B. family.
"Ms. Bucyk's kind, gentle nature has made her the 'significant person' for many of our students
in need," said Casselman. "She collaborates well with all members of her school team and is eager to share ideas she has regarding student learning, fine arts, and differentiated practices."
Mrs. Casselman is also particularly proud of Ms. Bucyk's current plans to incorporate a live musical performance into H.E. Bourgoin's Mental Health Week activities in May. 
"She has been working really closely with students and our (Student Advocacy Counsellor) to put this performance together, and I think it's really special and it goes to show her willingness to collaborate with others and work hard to celebrate mental health in a unique way," she explained.
"We are very excited to nominate Ms. Bucyk for this year's Edwin Parr Award," said Board Chair Karen Packard. "Being able to find your place, to form special bonds with students, and to work towards improving the lives of everyone around you are all attributes of an outstanding teacher, and we are grateful for everything Ms. Bucyk has done for her students and the people she works with."
The Board of Trustees would also like to congratulate Shaelynn Beach from Nelson Heights School and Siobhan Stromquist from Ecole Plamondon School, who were also put forward as Edwin Parr Award by their schools. 
Each school board in Alberta is eligible to nominate one outstanding first-year teacher for the Alberta School Boards' Association's Edwin Parr Award. A winner is selected from each Zone (NLPS is part of Zone 2/3 which selects two winners), and all six zone winners are recognized at the ASBA's Fall General Meeting in November.