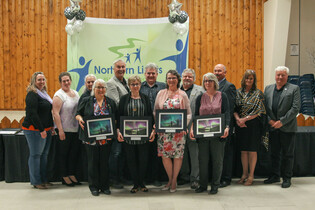 Northern Lights staff gathered in Glendon on Friday, May 3 for the Board's annual Staff Recognition Evening.
The theme of this year's celebration was "A Night Among the Stars." The event recognized four retirees, the Board's Edwin Parr nominee and candidates, and 132 staff who were being recognized for their service to Northern Lights Public Schools.
"We are privileged to have staff that are dedicated to working collaboratively to ensure all of our students have the opportunity to achieve success," said Board Chair Arlene Hrynyk. "Each and every day they make a difference in the lives of children in our communities and we are so proud of the work they do."
This year's event recognized four retirees who have served a combined 107 years with Northern Lights Public Schools. The Board also recognized staff who have served with the division for five, 10, 15, 20, 25, 30 and 35 years. This year the Board recognized five staff that have worked in the division for 30 years or longer.
The Board also recognized Blake Mezzarobba from Kikino School, who has been nominated by Northern Lights for the Alberta School Boards' Association's Edwin Parr Award for outstanding first year teachers. Bryanna Belanger from Aurora Middle School and Avalon Verzuu were also recognized as candidates for the nomination.
2018-2019 Staff Recognition Evening
"A Night Among the Stars"
Retirees
| | |
| --- | --- |
| Brenda Bischke | Cold Lake Middle School |
| Colette Bruce | Caslan School |
| Lynn Grant-Yackimec | École Plamondon School |
| Ellen Kaulback | Division Office |
35-Year Service Award Recipient
| | |
| --- | --- |
| Fedosia Alagoz | École Plamondon School |
30-Year Service Award Recipients
| | |
| --- | --- |
| Janine Veale | Cold Lake High School |
| Leona Cardinal | Kikino School |
| Suzanne Reilly | Pine Meadows |
| Dan Coonan | Wandering River School |
Twenty-Five Year Service Award Recipients
| | |
| --- | --- |
| Judy Dupras | Aurora Middle School |
| James McDonald | Cold Lake High School |
| Brent Stasiuk | Cold Lake Middle school |
| Donna Cadieux | Division Office |
| Ellen Kaulback | Division Office |
| Jane Drummond | Duclos School |
| Denise Makaruk | Duclos School |
| Janice Connolly | Glendon School |
| Larry Godziuk | H.E. Bourgoin Middle School |
| Elizabeth Young | J.A. Williams High School |
| Pam Wells | North Star Elementary School |
| Lynda Bateman | Vera M. Welsh Elementary School |
| Cheryl Burns | Vera M. Welsh Elementary School |
Twenty-Year Service Award Recipients
| | |
| --- | --- |
| Colette Primeau | Ardmore School |
| David Skoglund | Caslan School |
| Natalie Ogrodiuk-Whaley | Cold Lake Elementary School |
| Mark Ballard | Cold Lake High School |
| Lori Flanders-Midford | Cold Lake High School |
| Shalini Kapoor | Cold Lake High School |
| Cindy Mahe | Duclos School |
| Stacy Mercier | Duclos School |
| Matthew Dyck | J.A. Williams High School |
| Alyson Nowicki | J.A. Williams High School |
| Travis Guinand | Northern Lights Outreach Schools |
Fifteen-Year Service Award Recipients
| | |
| --- | --- |
| June Weldon | Ardmore School |
| Walaid Zahra | Aurora Middle School |
| Trent Lunde | Cold Lake Elementary School |
| Nathan Varughese | Cold Lake Elementary school |
| Cheryl Dyck | Cold Lake High School |
| Deirdre Matthews | Cold Lake High School |
| Lynn Clark | Division Office |
| Paul Langridge | Division Office |
| Matthew Stavert | Division Office |
| Cindy Hornseth | Duclos School |
| Annette Nicholson | Duclos School |
| Carmen Schneidmiller | Duclos School |
| Shane Ennest | Ecole Plamondon School |
| Maureen Ference | Glendon School |
| Marlo Hanson | J.A. Williams High School |
| Bonnie Belhumeur | Northern Lights Outreach Schools |
| Jacqueline Densmore | Nelson Heights Middle School |
| Luis Garay | North Star Elementary School |
| Susanne Hildt | North Star Elementary School |
| Nicole Biollo | Vera M. Welsh Elementary School |
Ten-Year Service Award Recipients
| | |
| --- | --- |
| Leanne Varughese | Art Smith Aviation Academy |
| Alecia Cox | Aurora Middle School |
| Nouhad Fayad | Aurora Middle School |
| Sherraz Moghrabi | Aurora Middle School |
| Julie Hutchison | Bonnyville Centralized High School |
| Stephen Kozina | Bonnyville Centralized High School |
| Jody Serner | Bonnyville Centralized High School |
| Michael Straile | Bonnyville Centralized High School |
| Jennifer Vermilion | Bonnyville Centralized High School |
| Brandie Desjarlais | Caslan School |
| Shelley Handel | Caslan School |
| Alicia Sinclair | Cold Lake Elementary School |
| Rose Lapointe  | Cold Lake High School |
| Monique MacInnis | Cold Lake High School |
| Jeff Meldrum | Division Office |
| Valerie Zahara | Division Office |
| Denise Chapelsky | Duclos School |
| Amber Hayward | Duclos School |
| Leanne Jordison | Duclos School |
| Patti Cameron | Ecole Plamondon School |
| Vera Reutov | Ecole Plamondon School |
| Alison Walker | Glendon School |
| Cheryl Edwards | H.E. Bourgoin Middle School |
| Lois Hart | H.E. Bourgoin Middle School |
| Carol Lauzon | Iron River School |
| Brad White | Kikino School |
| Maxine Dewhurst | Nelson Heights Middle School |
| Annette Eludin | Northern Lights Outreach Schools |
| Rachelle Best | Vera M. Welsh Elementary School |
| April-Dawn Fabbro | Vera M. Welsh Elementary School |
| Rachel Feledichuk | Vera M. Welsh Elementary School |
| Cheryl Kuraitis | Vera M. Welsh Elementary School |
| Lisa Lloyd | Vera M. Welsh Elementary School |
Five-Year Service Award Recipients
| | |
| --- | --- |
| Ashley Heissner | Art Smith Aviation Academy |
| Brandon Isert | Art Smith Aviation Academy |
| Rachel Hunt | Bonnyville Centralized High School |
| Chelsea Marchand | Bonnyville Centralized High School |
| Crystal Zaugg | Bonnyville Centralizd High School and H.E. Bourgoin Middle School |
| Elise Atkin | Caslan School |
| Bryan Boychuk | Cold Lake Elementary School |
| Catherine Deep | Cold Lake Elementary School |
| Jennifer Elliott | Cold Lake Elementary School |
| Diane Laforce | Cold Lake Elementary School |
| Patricia Milne | Cold Lake Elementary School |
| Veronica Montgomery | Cold Lake Elementary School |
| Christine Shawaga | Cold Lake Elementary School |
| Chantelle Wheeler | Cold Lake Elementary School |
| Nicole Crawley | Cold Lake High School |
| Sharon Dahlseide | Cold Lake High School |
| Pennylynn Heffner | Cold Lake High School |
| Tiffaney Thompson | Cold Lake High School |
| Jeff Zaugg | Cold Lake High School |
| Alice Normand | Cold Lake Middle School |
| Bobbi Aylesworth | Division Office |
| Rachel Boychuk | Division Office |
| Shawna Babb | Duclos School |
| Melissa Jacob | Duclos School |
| Grace Nickless | Duclos School |
| Tania Normand | Duclos School |
| Elaine Skarsen | Duclos School |
| Katlyn Strzepek | Duclos School |
| Dmitri Evdokimov | Ecole Plamondon School |
| Joshua Backer | Glendon School |
| Nicole Yadlowsky | Glendon School |
| Kacie Nault | H.E. Bourgoin Middle School |
| Allison Wurzer | H.E. Bourgoin Middle School |
| Jody Paquette | Iron River School |
| Jessica Wakulchyk | Iron River School |
| Amena McKay | J.A. Williams High School |
| Michael Pruden |  J.A. Williams High School |
| Mitchell Wainman |  J.A. Williams High School |
| Gilda Lai | Kikino School |
| Lynzey Brodziak | Kikino School |
| Mitchell Gillis | Nelson Heights Middle School |
| Marie Walde  | Nelson Heights Middle School |
| Laura Anderson | North Star Elementary School |
| Jenna Head | North Star Elementary School |
| Helen Lewis | North Star Elementary School |
| Nicholas Brown | Vera M. Welsh Elementary School |
| Julia May | Vera M. Welsh Elementary SChool |
| Jody Theroux | Vera M. Welsh Elementary School |
| Emma Thomas  | Vera M. Welsh Elementary School |
Posted on