It's snowing! What happens now?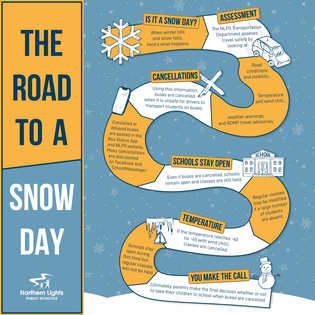 When snow falls or the temperatures drop, student safety is our top priority. When we decide to cancel buses (or more rarely, classes), student safety is the most important reason for doing so. 
There are always a lot of questions surrounding winter weather and school, and we have all the answers for you. 
How do you decide to cancel buses? 
Bus cancellations are a joint effort between our Transportation Department and individual bus contractors. When assessing whether or not it is safe to transport students on buses, we take into account: 
• Condition of the roads;
• Outside temperature;
• Wind chill factor;
• Visibility (blowing snow, fog, etc.);
• RCMP travel advisories; and
• Weather warnings issue by Environment Canada.
What happens if the weather turns bad during the school day or while buses are running?
When inclement weather conditions exist and buses are running, bus operators/drivers are granted the discretion to make additional stops and/or to extend bus routes onto private property to ensure that students are delivered safely. 
Under extenuating circumstances and with the approval of the School Principal and in consultation with the Director of Transportation, bus operators/drivers may make arrangements with their respective school parents for earlier than normal dismissal of their bus route students, or decide not to operate due to adverse weather and/or road conditions as per the procedures in the Transportation Policy Handbook.
If one bus route in my region is canceled, is mine canceled as well?
Bus routes are assessed on a route-by-route basis. This means that we may determine that one route (Route A) is unsafe for bus operation, while others (Routes B and C) remain in acceptable driving conditions. Therefore, Route A would be canceled while Routes B and C remain in operation. 
If buses are cancelled, does that mean school is cancelled?
Not necessarily. In almost all cases, schools remain open and classes are still in session when buses are cancelled. Programming may be modified if large numbers of students are absent, and student absences caused by cancelled buses will be considered excused absences. Attendance varies greatly on days when buses are cancelled depending on the location of the school, how many students normally take the bus, and current weather conditions. At some schools cancelling buses has little impact on overall attendance, while at others bus cancellations result in all or almost all students being absent. Programming is adjusted accordingly based on attendance that day.
So when is school cancelled?
School and classes will be cancelled when: 
• The Wind Chill exceeds –45 degrees Celsius, or
• The outside air temperature as measured at 4 Wing in Cold Lake or at Lac La Biche Airport is at or exceeds –40 degrees Celsius.
Just like bus routes, schools throughout the Division will not necessarily be affected concurrently. Classes at schools in Cold Lake could be cancelled while classes proceed as scheduled in Lac La Biche, for example. Our school division covers a large geographic region and temperatures and/or weather conditions are not always the same in all regions.
If buses are cancelled but classes aren't, do I have to send my child to school?
When inclement weather conditions exist and classes have not been cancelled, parents must use their own discretion when deciding whether or not to send their child to school. If your child will be absent due to bus cancellations, or for any other reason, please inform your school. 
What if Provincial Diploma Exams are scheduled and buses or classes are cancelled?
If a student does not write a diploma exam as a result of inclement weather, the school will work with the parents of that student to apply for an exemption. This means all necessary paperwork will be filled out by the school and the parent to ask Alberta Education to consider exempting the student from having to write that diploma exam. This paperwork is then submitted to Alberta Education and the following results are possible:
The student receives a full exemption due to inclement weather and is not penalized in any way for not writing their diploma exam;
The student does not receive an exemption and will need to write this diploma exam in either April or June.
In the event that a group of students are impacted and unable to write a diploma exam as a result of inclement weather, a group application for exemption will be submitted to Alberta Education by the school.
Do I have to call the school and let them know my child is not coming to school?
For safety reasons, we would like all parents to confirm that their child is not attending on days when buses or classes are cancelled. Many parents decide to drive their child to school, or make alternate transportation arrangements when buses are cancelled, and we want to make sure everyone gets to school safely. If a child doesn't show up and we haven't heard from you, we don't know if it's because buses aren't running and you stayed at home, or if something serious may have happened on the way to school. So please report your child's absence if your children are not attending that day.
How can I report an absence?
You have three options to report an absence:
School Messenger

Log in to the app and choose Attendance from the drop down menu on the left-hand side of the screen, then click on the Report an Absence button in the lower right-hand corner or
In a web browser, go to go.schoolmessenger.ca, log in and choose Attendance from the drop down menu on the left-hand side of the screen, then click on Report an Absence in the top right-hand corner.



Call 1-833-288-7008 toll-free and use our Safe Arrival system to report your child's absence


Call your child's school directly and leave a message.
Please note that unless otherwise indicated by your child's school, we do not monitor social media or email for absence notifications. If you report your child's absence using those methods, we may not receive it and you may still receive an automated message asking you to confirm your child's absence.
How can I know when buses and/or classes are canceled?
Northern Lights Public Schools strives for excellent communication and has a large variety of tools available to parents to ensure that they always have the latest information regarding busing and class cancellations. In 2020 we added a Northern Lights Bus Facebook group to further enhance the sharing of information about bus and class cancellations in the division.
All busing delays and cancellations will be posted on our website and on our Bus Status App. Major busing cancellations (for an entire region or the whole Division, for example), will also be posted on our Facebook page and group and sent to parents through SchoolMessenger. 
Northern Lights Bus Status Webpage
Download the Bus Status App for Android
Download the Bus Status App for Apple (must be running iOS 11.0 or later)
Learn how to use the Bus Status App
Northern Lights Bus Updates Facebook Group
Northern Lights Public Schools' Facebook Page
Learn more about using SchoolMessenger
Administrative Procedure 131 - INCLEMENT WEATHER DISRUPTIONS TO TRANSPORTATION
AND CLASSROOM SCHEDULES
Posted on