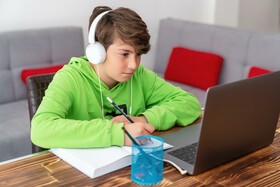 2021-2022 Learning Pathways
Northern Lights Public Schools will continue offering families three Learning Pathways for the 2021-2022 school year.
"The feedback we received from parents through our Learning Pathways engagement and in discussion with families enrolled in our Learning Together Anywhere program was that they would like to see all of the options that were offered this year continue next year as well," said Jimmi Lou Irvine, Associate Superintendent - Student Services and Indigenous Relations.
The three Learning Pathways that will be offered in 2021-2022 are:
NLPS offers a variety of options for students to complete high school programming. High school students interested in alternatives to in-person classes are encouraged to discuss their options with their school administration. 
These learning pathways were developed following consultations with parents, students and staff in June and August of 2020. At that time, some families were requesting alternatives to attending in-person classes due to the pandemic. 
"We expect some students to shift back to in-person classes in September, particularly if we experience some positive progress with COVID-19," explained Irvine. "What we are hearing from some parents is that while they may have initially enrolled in Learning Together Anywhere due to concerns about the pandemic, their experience this year has been so positive that they would like to continue with online learning for their families."
Now that the program has been in operation for a full school year, NLPS plans to open up enrolment to students from other areas of Alberta.
"When we started the program, we restricted enrolment to NLPS students because we really wanted to focus on building the program and ensuring students' needs were met during a year that we knew may be somewhat unpredictable," said Irvine. "Now that we've had time to refine the program and have seen the results, we are ready to offer it to students who are outside of our normal enrolment boundaries."
Information on how students who do not live within the NLPS boundaries can enroll in the LTA program will be shared on the division's website soon.