2020 Friends of Education Award: Kevin Biollo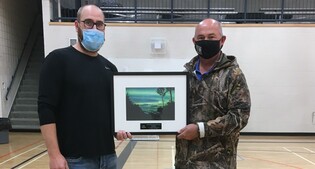 The Northern Lights Public Schools Board of Trustees presented Kevin Biollo with a 2020 Friends of Education Award at the Board's meeting on Wednesday, October 13.
Biollo was recognized for his more than 20 years of coaching middle and high school volleyball teams in Lac La Biche.
"We often say it takes a village to help ensure our students have the opportunities they need to learn and excel and Kevin is an excellent example of the impact our village of community volunteers has on students," said Board Chair Arlene Hrynyk.
Biollo started out coaching volleyball at Dr. Swift Middle School and then followed his team as they moved on to play high school volleyball at J.A. Williams High School. In 2016 he took on coaching responsibilities for Aurora Middle School as well and coached both the middle school and high school teams until 2019.
Biollo is known as a coach who is deeply dedicated to his teams and students. To ensure he doesn't miss a practice or a tournament, he reduces the amount of work he takes on during volleyball season so he is available in the afternoons and on weekends.
"Coaching a school team is a big commitment and many of our schools struggle to find people in our communities to take on coaching responsibilities," said Hrynyk. "We are so grateful to Kevin for the amount of time he has invested in our students and ensuring that they have the opportunity to participate in school sports."
Biollo is one of four recipients of a 2020 Friends of Education Award. Information about all four recipients is available on the NLPS website.
Posted on