Grand Opening of modernized BCHS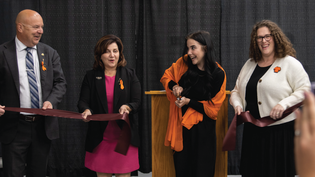 Northern Lights Public Schools welcomed Education Minister Adriana LaGrange to Bonnyville Centralized High School today (Thursday, September 29th) for the official grand opening of the modernized school.
"Maintaining the school's role as a hub of the community was important to us when planning the modernization," said NLPS Board Chair Karen Packard. "All of the new features of the school not only provide amazing programming and extra-curricular opportunities for our students, they also enhance the possibilities for what can be done in co-operation with our community partners. We are excited to see how our students and our community will grow and thrive in this new facility."
Students and staff have been enjoying the new look and amenities of the modernized school since September 2021. Previous plans to host a grand opening were cancelled due to the COVID-19 pandemic. The modernization included construction of a new school gym, upgrades to classrooms and mechanical systems, a new food studies lab, new learning commons and student common areas, upgraded cosmetology lab, and relocation of the entrance and main offices. Plans are underway to use the school's previous gym as a community performing arts facility.
Packard thanked students, staff, parents and the community for their support and patience during the construction process. Classes were relocated to the Bonnyville and District Centennial Centre for two years while construction was underway at the school. She also praised the school's staff and division's facilities team for the work they did to relocate the school to the C2 and then prepare the school for students to return in September 2021. 
"We look forward to attending many more events and celebrations in this building and to learning about all of the amazing things you are going to accomplish," she told students at the celebration. 
The modernized Bonnyville Centralized High School is located at 4808 49 Street in Bonnyville. It offers programming to approximately 320 students in grades 9-12. 






BCHS Modernization Grand Opening
Posted on