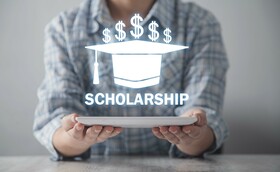 Northern Lights Public Schools is pleased to announce that we have updated the Scholarship section of our website to make it easier for students and parents to find and apply for scholarships.
The new Student Scholarships and Awards section of the NLPS website focuses on scholarships available to students in our division, as well as links to national databases with even more scholarships. There is a new page that lists scholarships by application deadline so students know when they need to submit their information. 
NLPS offers a number of scholarships for its students including the Aboriginal Achievement Scholarship, NLPS Student Leadership Award, Walter Hayduk Memorial Scholarship, and Xerox Scholarship Award for Business and Entrepreneurship. All scholarships administered by NLPS can now be applied for online to make the application process easier for students.  
NLPS will continue to update the Student Scholarships and Awards section as we become aware of more scholarships available to NLPS students.