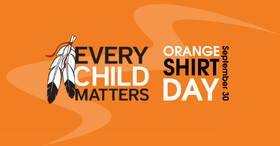 On Monday, September 30, each of our schools and offices will observe and recognise Orange Shirt Day. Many of our students and staff will wear orange shirts and host a variety of discussions and educational opportunities related to Orange Shirt Day.
What is Orange Shirt Day?
Orange Shirt Day is a time to remember the inhumane and prejudicial treatment of First Nations children who were forced to attend Residential Schools.
When Phyllis Webstad was just six years old, she was taken from her home and boarded at St. Joseph's Mission, a residential school just south of Williams Lake, British Columbia. Her experience has led to the national recognition of the orange shirt as a symbol of remembrance:
"My grandmother brought me down to [a store], and I picked out a shiny orange shirt to go to school in. It was an exciting time. But when I got to the residential school, we were stripped of our clothing and I never did wear it again. Nobody cared that we had feelings. There was nobody coddling us, nobody hugging us, nobody telling us that it would be okay; we didn't matter."
Residential Schools
Residential schools were government-mandated facilities created with the intent to forcefully assimilate First Nations children into Canadian society. The first school opened in Ontario in 1831, and the last school closed in 1996 in Saskatchewan. The education at residential schools was poorly planned and executed, schools were overcrowded and cleanliness was substandard, and many students suffered abuse at the hands of school staff. 
Approximately 150,000 First Nations children were forced to attend 130 residential schools all across Canada. Of those 150,000, an estimated 6,000 died of malnutrition, disease, and other largely preventable causes. 
The geographical area that comprises Northern Lights Public Schools was home to a residential school for 36 years. Blue Quills Indian Residential School ran in the Lac La Biche area from 1862 to 1898. In 1898, the school was moved to Saddle Lake Cree Nation and became Sacred Heart Indian Residential School. The school stayed there until 1931, when it was moved once again to St. Paul, becoming St. Paul's Boarding School. St. Paul's Boarding School finally closed its doors in 1970. Due to inadequate record keeping, we don't know exactly how many students were boarded at Blue Quills during its 36 years in Lac La Biche or after the school moved to Saddle Lake Cree Nation and St. Paul. 
Why is Orange Shirt Day important?
Orange Shirt Day is an important day of reflection. Held annually in September shortly after students return to school, we use this day to remind ourselves that each and every child matters. We show that as students, staff, and community members, that we are stronger together when we stand against racism and prejudice. We come together in a spirit of reconciliation in order to provide excellent, equitable education for all students so that they may learn and excel in all aspects of life. 
Resources for Parents and Teachers
Phyllis' Story - YouTube video
Orange Shirt Day Facebook Page - followers are encouraged to share pictures on the Facebook page.
Orange Shirt Day Education and Discussion Guide
Guide to creating attachment hearts
Teacher Resource Guide - Grade 5

Building Bridges Level 1 (Grade 5 and up)

Building Bridges Level 1 (Grade 5 and up) FRENCH

Building Bridges Level 2 (Grade 8 and up)

Building Bridges Level 2 (Grade 8 and up) FRENCH
Teacher Resource Guide - Grade 10
Teacher Resource Guide - Grades 11 and 12
The Orange Shirt Story - An illustrated children's book written by Phyllis Webstad about her experience in the St. Joseph's Mission residential school
Gladys We Never Knew: The life of a child in a BC Indian Residential School