Back to News
Leanne Jordison - Prime Minister's Awards for Teaching Excellence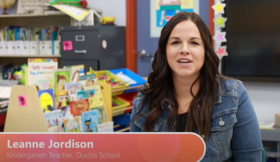 Leanne Jordison, a Kindergarten teacher at Duclos School in Bonnyville, has been selected as a recipient of this year's Prime Minister's Awards for Teaching Excellence. The awards recognise exceptional elementary and secondary school teachers and "their remarkable achievements in education and for their commitment to preparing youth for a digital and innovation-based economy."
"Leanne's drive and ability to reach each of her students and bring the best out of them is exemplary," said Duclos School Principal Jody Centazzo, as part of Mrs. Jordison's nomination package. "Her efforts and leadership towards meeting division and school goals have been invaluable through the years of mentorship she has provided to teachers and support staff. We need more teachers like Leanne who put in everything it takes, each and every day, no matter what."
Congratulations to Mrs. Jordison and Duclos School.