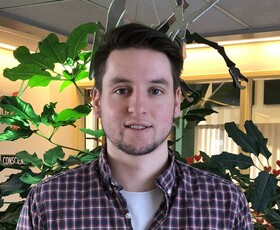 The Northern Lights Public Schools Board of Trustees is pleased to announce that it has selected Blake Mezzarobba as the Division's nominee for the Edwin Parr Award for outstanding first-year teachers.
Mr. Mezzarobba is the Grade 5/6 teacher at Kikino School and joined Northern Lights in August after graduating from Brock University with a dual degree in Arts and Education.
"I am honoured to represent Northern Lights Public Schools as the new teacher nominee for the Edwin Parr Award," said Mr. Mezzarobba. "I am fortunate to have had many amazing teachers and role models that have inspired me on my path as a developing educator. My principal and fellow co-workers have been encouraging and supportive during my first year journey here at Kikino School."
Mr. Mezzarobba's commitment to building relationships inside and outside of the classroom with his students and their families is just one of the reasons Kikino School Principal Laurie Thompson put forward his name for nomination.
"Blake is an excellent role model for all students in our K-8 school," said Ms. Thompson. "His innate ability to make Indigenous connections between community and curriculum is serving him well with students, staff, the Kikino Metis Settlement and Northern Lights Public School."
In the nomination submission, Ms. Thompson noted that Mr. Mezzarobba has a natural ease of respect with students and adults that has made it easy for students to believe they can do their best in his class.
"Blake comes to his classroom smiling and brings positive joy and warmth to his relationships with his students and all students in the school," said Ms. Thompson. "He is a great listener, easy to talk to, is able to communicate well; his students are happy and Blake likes to heave learning fun with them at their level. The students continue to be excited about their teacher."
Mr. Mezzarobba has fully embraced all of the opportunities available to him in Kikino, including volunteering to skate with the youth hockey teams and joining the snare setting crew, which included learning how to skin, gut and clean the rabbit he snared.
"Northern Lights is thrilled to nominate Mr. Mezzarobba for the 2019 Edwin Parr Award," said Board Chair Arlene Hrynyk. "The contributions he has made to Kikino School and the commitment he has to developing relationships with his students, their families, and the community in his first year of teaching are outstanding. We are looking forward to seeing what he accomplishes as he continues in his career with Northern Lights Public Schools."
Each school board in Alberta is eligible to nominate one outstanding first-year teacher for the Alberta School Boards' Association's Edwin Parr Award. A winner is selected from each Zone (NLPS is part of Zone 2/3 which selects two winners), and all six zone winners are recognized at the ASBA's Fall General Meeting in November.