AMA Roadbot returns to NLPS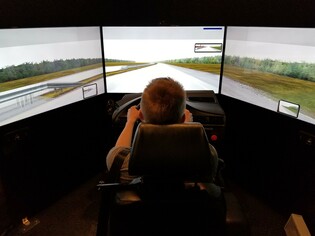 Northern Lights is excited to welcome the AMA Roadbot: The Driving Safety Simulator back to the division to provide more high school students with the opportunity to test their winter driving skills and learn how to deal with hazards they might encounter.
"Experiences like this, where students learn through participating in a real world scenario, are very meaningful and memorable for our students," said Board Chair Arlene Hrynyk. "We share the Coalition's commitment to safety and are grateful they have provided our students with the opportunity to learn how to stay safe on the road."
The event is being offered in partnership with the Coalition for Safer Alberta Roads.
"I am always happy and excited to work with Northern Lights. Their progressive and proactive approach to road safety helps the Coalition engage with young drivers in an effort to get the message of safe driving to them. This particular event is a partnership between the Coalition for Safer Alberta Roads, Alberta Motor Association and Northern Lights Public Schools and is our third year offering an interactive way to learn about safe driving habits to students in the region," said Debbie Hammond, Executive Director, Coalition for Safer Alberta Roads.
The simulator will be at Bonnyville Centralized High School on Tuesday, October 22 and Cold Lake High School on Wednesday, October 23 and Thursday, October 24. All Grade 11 students at both schools will have the opportunity to experience winter driving conditions and how to handle hazards in the driving simulator with trained driving instructors.
This is the third time the Coalition has brought the AMA Roadbot to NLPS. Previously, students at J.A. Williams High School in Lac La Biche and Ecole Plamondon School had the opportunity to take part.
AMA Roadbot 2019 Photos
Posted on