Healthy Lifestyle - March 2021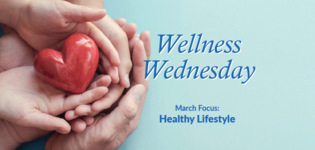 Welcome to Wellness Wednesday for the month of March. This month the division is focusing on Healthy Lifestyle, including physical activity, sleep and nutrition, all of which impact our mental health. We are sharing a number of resources that families can use to learn more about Healthy Lifestyle and complement what our Student Advocacy Counsellors and SFSK Wellness Coaches are doing in our schools.
This month's Wellness Wednesday also includes some additional mental health resources not related to our monthly theme that may be helpful to our NLPS families at this time. 


Healthy Lifestyle Activities and Resources for Families
PARTICIPACTION
This isn't the same campaign some of us remember from the '80s! This site is full of activities and information about getting and staying physically active. "There are brain benefits, relationship benefits, community benefits and benefits you may have never even expected (like pooping benefits, for instance). The link between physical activity and better physical, mental or emotional health have been proven in study after study. But everyone is different. Understanding what really motivates you, how much and what kind of activity is required to experience positive change, and finding an activity you love to do from all the different ways to get physically active is key."


APP: PARTICIPACTION
Yes, there's an app too! Includes motivational content to help you stay active and healthy, workout videos and tips and tricks, and virtual team challenges.


Build Your Best Day
Choose activities that meet the Canadian 24-Hour Movement Guidelines to build your best day ever. Also includes a variety of resources for all age groups.


Canada's Food Guide
Learn about the updated food guide, and how healthy eating is about more than what you eat. Includes recipes, tips, and resources about healthy eating.


BOKS
BOKS offers resources and tools to get kids moving in fun ways throughout the day, whether they're in the classroom, at home, or outside. For each situation, BOKS offers a variety of resources that will appeal to all school-aged kids. 


VIDEO: How to Eat More Mindfully
This YouTube video from The Science of Happiness discusses how to engage all of your senses and pay attention when you are eating something delicious.




At My Best
This is a free, curriculum-linked resource from PHE Canada designed to support children's optimal development by inspiring and motivating them to make healthier choices and develop lifelong healthy habits.


Indoor Family Fun Workout
A kid-friendly, total body workout that can be done in 10-15 minutes without exercise equipment.


Sleep Behaviours of Children and Youth
According to the Canadian 24-Hour Movement Guidelines for Children and Youth,1 5- to 13-year-olds require 9 to 11 hours of uninterrupted sleep per night and 14- to 17-year-olds require 8 to 10 hours per night, with consistent bed and wake-up times.


Other Mental Health Resources for Families

ANXIETY WORKSHOP SERIES
This is a free virtual wellness group. It will rotate through topics to support overall wellness.

Wednesdays from 2 p.m. - 3 p.m.

March 24: Anxiety and CBT
March 31: Anxiety and Postpartum Care
April 7: Anxiety and Children
April 14: Anxiety and Sleep
April 21: Anxiety and Substance Misuse

Register by calling Lac La Biche Mental Health at 780-623-5230



VIRTUAL SESSION: The Impact of Technology on Children and Youth
Join Young Family Connections for a pre-recorded session exploring the impact of technology and discuss research-based strategies to help children and teens manage screen time.

Tuesday, March 23, 9 a.m. - 11 a.m.
Tuesday, March 30, 7:30 p.m. - 9:30 p.m.
Register with Young Family Connections - 780-623-6365



VIRTUAL WORKSHOP: Active Parenting of Teens
Offers proven techniques to communicate with youth 13-17 years old. Topics covered include the active parent, courage and self-esteem, teen behaviour and problem-solving, responsibility and discipline, and cooperation and communication.

Monday, March 22, 1 p.m. - 3 p.m.
Register by calling Cold Lake and District FCSS at 780-594-4495



VIRTUAL WORKSHOP: Moving Forward: Hope and Resilience during a Pandemic
Explore how we can begin to move forward with some practical strategies to bring hope into your daily life, including discussions on self-compassion and gratitude.

Tuesday, March 23, 2 p.m. - 4:30 p.m.
Register by calling Cold Lake and District FCSS at 780-594-4495
More Mental Health and Wellness Resources are available on our website, including COVID-19 resources, Successful Families, Successful Kids resources for families, and our Mindful Minutes videos! 
Posted on