Back to News
Plamondon student achieves perfect scores on numeracy assessments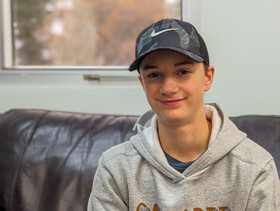 In an extraordinary academic achievement, Grade 8 student Joey Clark has achieved back-to-back perfect scores on Northern Lights Public Schools-developed math assessments. Joey, a student at Ecole Plamondon School, is now being celebrated as a shining example of excellence and hard work. 
NLPS-developed Common Assessments are completed at the school level as part of Northern Lights' commitment to improving the numeracy skills and understanding of all students. Joey's remarkable scores were noticed by his math teacher, Mr. Dmitri Evdokimov, who then nominated Joey as worthy of recognition as part of the new NLPS Shining Stars program, which shines a spotlight on a remarkable student achievement each month of the school year. 
"I've never had any student earn 100 percent on any of the division math assessments," Mr. Evdokimov said. "And then this year, Joey has been perfect two months in a row. It is really remarkable."
Mr. Evdokimov says that Joey's perfect results came as a bit of a surprise at the start of the school year.
"Joey is a really good student," he said, "but this year has been very different. Before, he would do well on his assessments but not perfect. So you can really see how hard he's been working."
Joey is an example of quiet success, and excels both academically and in his extracurriculars. He also enjoys sports, especially hockey. He lists math and science as his favourite subjects, and prefers to credit Mr. Evdokimov's teaching style as the key to his academic excellence. 
"Mr. E really wants his classes to be great, and he makes sure that everyone understands what's being taught," said Joey. "He doesn't let you get away with being less than as good as you can be."
"Joey is a wonderful student and a great person," said Ecole Plamondon School principal Karen Grygus. "We are so proud of him and his dedication."