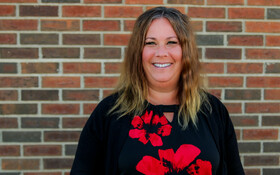 NLPS is pleased to announce that Karen Draycott will be joining the division office team as its new Director of Learning: Grade 7-12 Instructional Support starting in August 2023.
"Karen is well respected throughout NLPS and has a deep commitment to ensuring all students have opportunities to succeed," said Superintendent Rick Cusson. "Her experience with alternative learning strategies and supports will be invaluable as we work to enhance programming for our middle and high school students."
Draycott is currently Assistant Principal of Cold Lake Junior High. Prior to that, she served as Principal of Iron River School for four years and Assistant Principal of Northern Lights Outreach Schools for three years. She was also a teacher at Ardmore School for six years, and served as the school's Learning Coach and Inclusive Educator.
"I am looking forward to this new opportunity to continue serving Northern Lights Public Schools students, staff and communities in this position," said Draycott.
The hiring of a Director of Learning focused on Grades 7-12 instruction is part of the division's plan to reconfigure leadership positions over the next few years as staff leave or retire, and realign staffing with division priorities.