New Assistant Principal for Art Smith Aviation Academy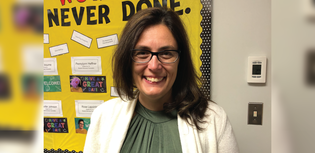 Northern Lights Public Schools is pleased to announce that Rose Lapointe has been appointed Assistant Principal of Art Smith Aviation Academy for the 2021-2022 school year.
"Rose is dedicated to connecting with students, staff and parents to engage them in learning and provide meaningful educational experiences," said Superintendent Rick Cusson. "In addition to being a math and science teacher, Rose is also focused on integrating educational technology in the classroom, and we are looking forward to having her on the team at Art Smith."
Lapointe began her career with Northern Lights as a science and math teacher at Cold Lake High School in 2009. She served as the school's academic and career counsellor from 2016-2019 and Student Services Coordinator from 2019-2021. For the past three years she has also been the division's Summer School Principal, co-ordinating programming for high school students throughout the school division. In 2016, Lapointe earned her Masters in Educational Technology from the University of British Columbia. She also has a Graduate Certificate in Leadership from the University of Alberta.
"I am very excited to join the team at Art Smith Aviation Academy. I look forward to working with parents, staff, and students while building more relationships within our amazing community," said Lapointe. "In the past 12 years at Cold Lake High School I have worked with so many inspirational leaders and teachers. I hope to bring these experiences into ASAA and continue to improve my leadership skills."
Posted on