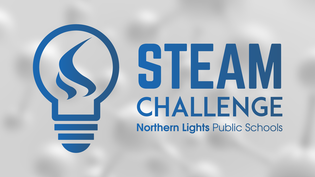 The competition was fierce and fun as over 300 NLPS students in grades 6 through 9 participated in the 2019 STEAM Challenge at the Bold Centre in Lac La Biche on Thursday, April 11.
"This is an event that our students look forward to every year," said Board Chair Arlene Hrynyk. "It is wonderful to see all of the students so engaged in the challenges and excited to compete against other students in the division."
Competing in teams of five, the students tackled a series of three challenges that tested their teamwork and creativity as well as their STEAM (science, technology, engineering, art and math) skills. Two of the challenges also featured math challenges that could earn the team bonus points if they got the correct answer.
The event started with" Text on the Table." Students were given three newspapers, a sheet of chip board and masking tape, and had to build a free-standing table that could support as many text books as possible. Some teams elected to focus on the height of the table, while others went for a shorter table in the hopes it could hold more books. Students crowded round as some teams were able to stack dozens of books on their tables before the stack tumbled to the floor.
"Blow Off Some Steam" featured students creating a free standing balloon tower using just 25 balloons and masking tape. The sound of popping balloons filled the fieldhouse as students constructed their towers, some of which required some of the volunteer judges to stand on chairs to measure.
For the final challenge, "Zippadeedoodah," students were given a propeller, elastics, popsicle sticks, paper clips, gorilla tape, and card stock to build a self-propelling structure that would travel as far as possible along a zip line.
In her closing speech to participants, Heather Stromquist, NLPS Director of Community Partnerships and Engagement, noted the event wouldn't be possible without the support of the many volunteers in attendance and the support from local businesses.
Sponsors for this year's event include Britton's Your Independent Grocer, Canadian Natural, Cenovus, Devon Canada, EDCON Power Tongs, Enbridge, Imperial, Thinkwerx, Bonnyville Nouvelle, boom 103.5, boom 95.3, and Kool 101.3.
Students from 14 NLPS schools competed in the 2019 STEAM Challenge. This year, a Most Creative award was given out at each grade level in addition to first, second and third place awards.

1st Place Winners
Grade 6 – H.E. Bourgoin Middle School – HEB 6G
Bailey Runciman
Aloysius Kaiser
Vanessa Boehk
Aiden George
Grade 7 – Aurora Middle School - Aurora Looney Losers
Aspen Desjarlais
Mercedes Forsberg
Chloe Cardinal
Madi Whiteknife
Emily Newhook
Grade 8 – H.E. Bourgoin Middle School - HEB 8J
Brandon Potts
Dylan Boehk
Luke Poulin
Hannah Thorne
Kade Dyck
Grade 9 – Cold Lake High School - CLHS SAS
Dawson Cook
Brooklynn Lasell
Jayden Nagoya
Keira Hancock
2nd Place Winners
Grade 6 – Glendon School - Glendon Lightning Scientists
Danaye Berlinguette
Cadence Kissel
Odin Haiden
Tamyka Trueit
Isabella Hupalo
Grade 7 – H.E. Bourgoin Middle School - HEB 7S
Jaren Conrad
Triston Jacob
Jordyn Skarsen
Alexa Gamble
Talia Wells
Grade 8 – Ecole Plamondon School - EPS 8
Trystin Kim
Safron Egoroff
Emilian Barsukoff
Carleigh Reid
Sarah Menard
Grade 9 – Cold Lake High School - CLHS Royals
Evan Aessie
Brody Greengrass
Astin Hollingshead
Christian Bowering
3rd Place Winners
Grade 6 – Nelson Heights Middle School - Grade 6 Team 3
Dmitri Storoschuk
Kaden Lewis
Preslee Jaques
Annora Jackson
Hope Wierstra
Grade 7 – Cold Lake Middle School - CLMS The Big Bang  
Ethan Blakie
Brady Woloshyn
Amelia Gurski
Lila Kynaston
Ava Pinch     
Grade 8 – Art Smith Aviation Academy - ASAA Rocket Scientists
Mitchel Swansburg
Ben Cassar-Torregiani
Quinton Bailey
Brady Cooper
Julia Reyes
Grade 9 – J.A. Williams High School - JAWS 1
Grace Brazil
Brycen Cadieux
Jonah Smith
Ivan Ennest
Gregory Wiebe
Most Creative
Grade 6 – Aurora Middle School - Aurora Lil Chungas
Andie Holden
Kendra Kuziemsky
Nichole Carothers
Josie Jaekel
Phoenix Manywounds
Grade 7 – Aurora Middle School - Aurora Scientific Avocados
Tamia Whitford
Ella Ball
Emmy Saunders
Jorja Jaekel
Giripriya Panicker
Grade 8 – Nelson Heights School - Expert Elements
Waniya Khan
Maycee Keichinger
Lochlyn Packard
Holly Dodman
Haley Himshoot
Grade 9 – Cold Lake High School - CLHS SAS
Dawson Cook
Brooklynn Lasell
Jayden Nagoya
Keira Hancock
For more highlights from the 2019 STEAM Challenge, including photos and video, check out our STEAM Challenge page.
Posted on