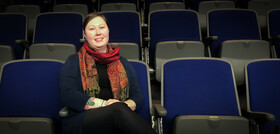 Dana Schwab's quest to find the perfect play for her high school students has resulted in recognition on the international stage.
In October, Pioneer Drama announced that Schwab was the winner of the 2023 A+ Playwriting Contest for Teachers for her fantasy adventure stage play, Heist Quest, which was performed by Cold Lake High School students last spring.
"The students are thrilled because the first performers and crew have their names in the script in perpetuity," said Schwab. "They are thrilled because they helped make it happen."
The award includes publication of the play, which can then be accessed by school and community theatre groups around the world, a royalty advance of $500 USD for Schwab, and a $500 USD donation to the CLHS drama program.
"In addition to the play being accepted for publication and other teachers and community groups being able to use it, it's on a highlighted part of their website so it has increased exposure and to me that's amazing to know there's another school in another area and another community that's putting on the same show," said Schwab.
While pursuing her Bachelor of Education at the University of Lethbridge, Schwab attended a recruitment fair that led to her completing a practicum at Cold Lake High School and then accepting a temporary position covering a maternity leave the following year. This is her 12th year as an English and drama teacher at CLHS.
Her journey as a playwright began in 2019 when she wrote her first play for CLHS students. Unfortunately, less than a month from its debut, in March 2020, schools were closed for the rest of the year due to the COVID-19 pandemic.
The search for a show that would work well on the school's stage provided Schwab with the motivation she needed to create one herself. While Cold Lake High School is fortunate to have its own theatre space, the stage is not very large and is shared with the school's instrumental music program. There is nowhere to store large sets often associated with high school productions.
"Sometimes finding a script that works in the space that we have is challenging. I was trying to find something that had a minimal set or portable set. I got tired of looking for that and thought I would give it a crack," she explained. 
Returning to the stage in 2022, CLHS students performed Trap, a suspenseful horror production, which earned rave reviews from those in attendance. In 2023 it was time for a comedy.
"The kids really love to do comedy shows because you get that immediate feedback from the audience when you are doing something really well and the kids just thrive on that," Schwab said. "I thought 'I have a lot of kids interested in the program this year, how can I have the biggest group possible?' and so I decided to take a try at writing it myself."
Heist Quest is the story of a wizard, chicken farmer, thief, and a knight who go on a Choose-Their-Own-Adventure quest to rescue a princess. Part Monty Python, part Dungeons and Dragons and part Ocean's Eleven, it's a timeless tale that appeals to a broad audience.
Aside from being able to tailor the play to the space available, Schwab was also able to capitalise on her students' talents when writing Heist Quest.
"I had kids I knew were very clever with physical comedy so I knew I could work that more into the role and I also had some kids who I knew would really shine when it came to giant monologues and baring their sold and I tried to give that to their character," she explained. 
"One of my favourite parts of Heist Quest was I had a student who was a showstopper and got so many audience laughs and their parents came up to me afterwards and asked 'How did you know that our kid was capable of this?' because that was a side of them that they had never seen. They were surprised that their child could command a room that way."
After the performance, which again earned accolades from those in attendance, Schwab made a few tweaks and then submitted Heist Quest to Pioneer Drama for consideration. It was selected as the winner of the contest from many entries submitted from throughout the US and Canada. It will be available for licensing by January 2024.
So what's up next for Schwab and her talented team of students? The play that got shelved due to COVID is being revamped and will debut on the CLHS stage in May. Stars Over Arkham features a 1920's film noir era detective who is hired to investigate a haunted house.
"Every kid loves to be a villain so I am in the process of reworking that one and I'm excited to give it a try this year," said Schwab. "I've got some absolutely showstoppingly wonderful actors and I really want to give them an opportunity to show off what they can do."
Schwab said Cold Lake has an exceptionally talented group of kids, many of whom gained experience through drama programs and camps hosted by the former Grande Parlour Theatre, which unfortunately closed.
"Giving kids the opportunity to demonstrate what they can do whether it's on stage or in terms of set design or costumes is so important," said Schwab. "The arts are alive, you just need to give kids an opportunity to do it."
Dana Schwab is Northern Lights Public Schools' Staff Shining Star for the month of November. Each month during the 2023-2024 school year, NLPS will feature different Shining Stars and celebrate their contributions and accomplishments.