2023 Retirement Celebration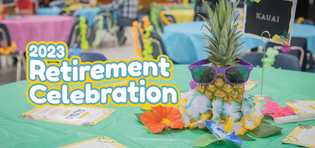 The NLPS Board of Trustees and ATA Local #15 celebrated the retirement of nine division staff and welcomed 10 new teachers to the profession at a celebration held in Glendon on Friday night.
"This was an opportunity for everyone to come together to honour our retirees and express our gratitude for the combined 271 years they have devoted to our students, schools and the division," said Board Chair Karen Packard. "We were also able to formally introduce our new teachers to the division and we look forward to seeing all the amazing things they will accomplish in the years to come."
The nine retirees recognized at this year's celebration were:
Don Bourassa - Maintenance, Lac La Biche
Janice Connolly - Glendon School
Heather Dempsey - Aurora Middle School, Lac La Biche
Bob McRae - Maintenance, Bonnyville
Terry Moghrabi - Division Office
Jodi Rebkowich - Ecole Plamondon School
Sharon Sharun - H.E. Bourgoin Middle School, Bonnyville
Shelley Thody - Vera M. Welsh Elementary School, Lac La Biche
Karin White, Kikino School
This was the second year the Board and ATA have partnered to recognize retirees, and new teachers being inducted into the ATA. Milestone awards will be presented at school sites in June.
2023 Retirement Celebration
Posted on