Back to News
2022 Friends of Education Award - Bonnyville Friendship Centre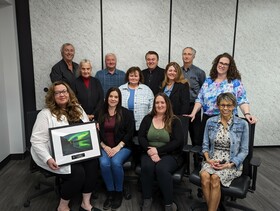 The Northern Lights Public Schools Board of Trustees was excited to present the Bonnyville Friendship Centre with a 2022 Friends of Education Award at the Board's meeting on Wednesday, March 29th.
The Bonnyville Friendship Centre supports students through a variety of programs and initiatives, including the Friends for Lunch program, which provides healthy lunch and snack items for students. 
"Food insecurity can be a huge barrier to attending and fully participating in school," explained Board Chair Karen Packard. "The Friendship Centre's commitment to ensuring all students have access to healthy food throughout the school year is appreciated and makes a big difference in the lives of our students."
The Board also thanked the Friendship Centre for the many other ways it supports NLPS students and youth in the community. This includes inviting students to participate in Indigenous Peoples' Day celebrations, its free tutoring program, support for local graduates, mental health advocacy, cultural awareness presentations and workshops, and partnering with schools on student leadership and citizenship projects.
"The programming provided by the Bonnyville Friendship Centre truly reflects the needs of both our students and the community," said Packard. "We are so grateful for the wonderful opportunities they provide for our youth to experience new things, learn, and contribute to their community."
The Bonnyville Friendship Centre is one of four recipients of a 2022 Friends of Education Award. Awards were previously presented to Cold Lake Public Library, Brian Deheer, and First Nations Health Consortium. Information about all current and past recipients is available on the NLPS website.