Back to News
2021 Friends of Education Award: B&R Eckels Transport Ltd.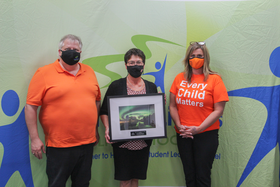 The Northern Lights Public Schools Board of Trustees recognized B&R Eckel's Transport Ltd. for their ongoing support of the division's students and schools with a 2021 Friends of Education Award, presented at the Board's meeting on Wednesday, September 29.
"We greatly value the time that B&R and its staff have committed to our students and our division over many, many years," said Board Chair Arlene Hrynyk. "They are always eager to get involved with initiatives that benefit our students and go above and beyond to provide support to our schools."
For nearly a decade, B&R Eckels has transported the division's Mobile Trades Lab to and from schools throughout the Bonnyville and Cold Lake area. This has allowed NLPS to offer hands-on welding programming to students at our middle schools and provide them with an introduction to the trades.
B&R was one of the partners who came together to establish the division's Trades Exposure Centre, which allows NLPS to operate its service rig training program for high school students. The centre also hosts an annual Indigenous Trades Carnival and B&R has participated by sending equipment and staff to share information with students about different careers.
In addition, B&R generously supports many school fundraising initiatives, providing financial support as well as in-kind donations. This includes everything from sending their big barbecue and staff to flip burgers and hot dogs at events, to sending a team to help move a sea can or relocate some equipment for a school. 
"We are grateful for the multitude of ways that you continue to support our students and schools," said Hrynyk. "Your support has allowed us to offer our students amazing opportunities and experiences that they otherwise may not have been able to access."
This is the first 2021 Friends of Education Award that the Board has presented. A second 2021 award, as well as two 2020 awards, are scheduled to be presented at the October 13 Board meeting.