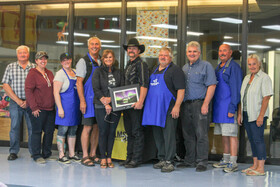 The Northern Lights Public Schools Board of Trustees was honoured to present three long-time supporters of our schools with Friends of Education Awards at the division's Welcome Back Breakfasts, held August 28-30.
The Board presented two awards in Lac La Biche; one to Kristen Shewchuk from Big Brothers Big Sisters, and one to Dr. Mohammad Al-Bekai from Generations Eye Care. This year's recipient from Cold Lake was Steve Charlton. 
"We are privileged to have volunteers and community partners who generously give their time and energy to ensure our students have opportunities inside and outside of the classroom to learn and contribute to their communities," said Board Chair Arlene Hrynyk. "This year's recipients are all individuals who have worked with our schools on a long-term basis to enhance educational opportunities for our students."
The Friends of Education Awards were introduced in 2010 to recognize individuals and organizations that make special contributions to education in Northern Lights Public Schools. Every year, the Board of Trustees asks staff, students , parents and the public to nominate people they feel are deserving of the award. A committee reviews the nominations and selects recipients from throughout the division each year.
Profiles of this year's award recipients, as well as recipients honoured in previous years can be found on our Friends of Education Awards Recipients page.