Under the Northern Lights - May 15, 2023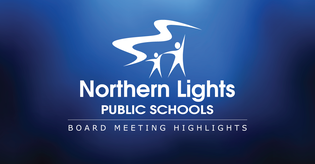 Good News Items
Trustee Lois Phillips congratulated the NLPS students who performed in the Northern Beat Dance Academy's year-end show on the weekend. She had the opportunity to reconnect with many of her former students, including one who is now an instructor.


Trustee Debra Lozinski thanked the students who participated on the Student Advisory Council to the Board for sharing their thoughts with trustees. She noted the students seemed pleased with the actions the Board is taking as a result of the input that was shared earlier this year.


Trustee Debra Lozinski also thanked the Board's recognition committee and ATA Local #15 for their work in planning this year's joint retiree recognition and ATA induction event. 


Trustee Roy Ripkens reported positive feedback on the new Facebook pages set up for three of the trustees. Trustee Ripkens, Board Chair Karen Packard, and Trustee Cheryl Edwards each have an official Facebook page where they will be sharing information about the Board and education issues.


Trustee Cheryl Edwards commended elementary school staff on the amazing early learning open houses that were held on Thursday, May 4 across the division. She was particularly impressed by the open house hosted at Ardmore School which featured a book fair, farmer's market and a community services showcase.


Trustee Mandi Skogen complimented Cold Lake High School on their recent Quest Heist drama presentation. The play was written and directed by CLHS teacher Dana Schwab.


Trustee Blair Norton commended staff involved in planning the recent Zone badminton tournament held in Lac La Biche. The event features 240 players competing on 18 courts simultaneously. 


Trustee Blair Norton also complimented Kikino School on the recent wellness night they hosted for staff which included bowling. He noted that supporting staff wellness has a positive impact on students.


Superintendent Rick Cusson congratulated Cold Lake Junior High on a successful drama night that featured several student performances and a comedic play about the Big Bad Wolf. There were many positive comments from the parents and community members who attended.


Superintendent Rick Cusson also shared that he has volunteered to have a pie thrown in his face as part of a fundraiser for Ronald McDonald House that is being done by North Star Elementary School in Cold Lake. Donations are accepted in person at the school or through School Cash Online.


Bill Driedger, Associate Superintendent, complimented Duclos School on their recent performance with Trickster Theatre. The theatre group spent a week at the school working with students to create a performance that was infused with numeracy. There was a great turn out for their final performance.


Nicole Garner, Communications and Public Relations Manager, presented highlights from school's throughout the division. The full presentation is available online: Good News - May 15, 2023
Review of Division Priorities
The Board endorsed continuing with the division's two priorities - student mental health and wellness, and numeracy - for the 2023-2024 school year. These priorities will be included in the division's Three-Year Education Plan which needs to be submitted to Alberta Education at the end of the month.
The Board also approved a motion to engage in strategic planning for next year.
Provincial Election Candidates
The Board invited provincial election candidates from its three ridings - Athabasca-Barrhead-Westlock, Bonnyville-Cold Lake-St. Paul and Fort McMurray-Lac La Biche to join the meeting and share their thoughts about issues impacting public education. Caitlyn Blake, the NDP candidate for Bonnyville-Cold Lake-St. Paul, was the only candidate to join the Board and answer questions.
Board Chair Karen Packard asked if the capital projects that were announced on March 2, which included design funding for Vera M. Welsh Elementary School in Lac La Biche would move forward following the election. The Board also asked about mental health supports and cross-ministry collaboration to help rural students and families access supports. They also asked about the current funding provided to school divisions and how candidates would ensure that funding will provide rural students with equitable access to programming and services and support the viability of small schools. Their final question focused on how the parties view choice in education.
Enhanced Programming Report
Terry Moghrabi, Associate Superintendent, presented the Board with the annual Enhanced Programming Report which highlights the many ways the division is providing unique programming in its schools. This includes dual credit programs, RAP, work experience, and the mobile trades lab.
NLPS currently has dual credit agreements with five post-secondary institutions: Portage College, Lakeland College, Athabasca University, Olds College and Northern Lakes College. Through these agreements, the division has access to over 30 dual credit transfer courses, which allow students to earn high school credits and post-secondary credits for completing a course.
In 2022-2023 NLPS received a $100,000 dual credit start-up grant to assist with the development and implementation of COMP 105: Introduction to Computing and Info Systems in partnership with Portage College. This course will also be offered as part of the division's Summer School program.
NLPS schools were also offered introductions to the field of robotics, through the Telus World of Science, and the Northern Coding Academy.
In total, 32 NLPS students were enrolled in RAP (Registered Apprenticeship Program), and 19- in work experience. Additionally, 553 students were enrolled in locally developed courses, and 163 CTS modules under dual credit programming. This is an increase over the previous school year.
The Mobile Trades lab was in the Lac La Biche region this year, with 200 students accessing programming at Kikino School, Aurora Middle School in Lac La Biche, and Ecole Plamondon. The lab will be in the Cold Lake region in 2023-2024.
Board Policy 14 - Hearings on Teacher Transfers
The Board approved changes to Policy 14 - Hearings on Teacher Transfers. The policy has been updated on the division's website: Policy 14.
Student Advisory Council to the Board
The Board reaffirmed its commitment to providing students with an opportunity for input through the Student Advisory Council to the Board. Board Chair Karen Packard noted the Board appreciated the feedback that it had received and it is important for the Board to have that input as it makes decisions.
Mental Health Survey Results
Jimmi Lou Irvine, Associate Superintendent, presented the Board with the preliminary results of the division's Student Mental Health Survey. This is the second year the division has administered the survey to all K-12 students. Irvine noted that with only two years or data it is too early to identify trends, but the division and schools have been examining the data and discussing strategies to address some of the results.
Each school was asked to identify two successes, two areas of concerns, two potential action items, and two steps that were taken the previous year and what the impact was. They also cross-reference school results with statistics from their student advocacy counsellors. Irvine noted that schools identified several areas where strategies could be put in place to make improvements or where further consultation needs to be done with students and staff to pinpoint what is impacting the results. 
Irvine also noted that the results reaffirmed the renewed commitment the division is making to implementing Positive Behaviour and Intervention Supports and creating positive learning environments. Some schools are returning to strategies that were used prior to COVID and looking a new ways to do cross-grade collaboration and other activities that bring students together and contribute to a positive school culture.
Transportation Updates
The Board approved a new fee schedule for unfunded riders. Based on the new walk limits announced by the provincial government in March, this will apply to students in K-6 who live within 1 km of their designated school and students in Grades 7-12 who live within 2 km of their designated school and wish to access student transportation. The new rate for students in K-6 will be $500 and 7-12 will be $750. There will continue to be an alternate drop off fee of $500 for students with two drop off points, excluding split custody situations.
The Board also approved an increase to the base rate paid to bus contractors for routes for the 2023-2024 school year.
Posted on