#wewantyourvoice Student Conference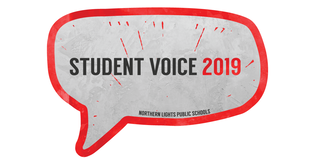 NLPS students will have the opportunity to use their voice to affect change at the #wewantyourvoice Student Voice Conference taking place on Wednesday, May 15 at the Cold Lake Energy Centre.
"When we make decisions as a Board, we always focus on how those decisions will impact students," said Board Chair Arlene Hrynyk. "So it's very important to us that we connect with students and find out what is important to them and how we can work together to make improvements that will ensure they have the best possible opportunities to learn."
This is the second year NLPS has hosted a Student Voice Conference for students in grades 5-12. For the first time, the conference will be lead by the NLPS Student Voice to the Board committee, which is made up of two student representatives from each of division's six high schools - Bonnyville Centralized High School, Cold Lake High School, Ecole Plamondon School, Glendon School, J.A. Williams High School, and Northern Lights Outreach Schools.
The Student Voice to the Board representatives will be sharing the results of two surveys they have done with grade 9-12 students in the division earlier this year - one on the barriers and challenges that affect student success, and one on creating welcoming and inclusive learning environments.
In the afternoon, the students will discuss a third question posed to them by the Board of Trustees - what can we do to better prepare you for making transitions, work or post-secondary/trades education?
"We are excited to learn how our students think we can improve in this area," said Hrynyk. "When students come together and share their experiences and thoughts, they always come up with amazing ideas."
The #wewantyourvoice Student Voice Conference is part of the NLPS Board's commitment to providing students with opportunities to have input into decisions that affect them. In addition to the Student Voice to the Board committee, the Board also provides students with opportunities to participate in provincial conferences focused on Student Voice. This includes the Alberta Student Voice conference hosted by the Public School Boards' Association of Alberta (May 31 and June 1) and the Provincial Youth Mental Health Summit hosted by the Alberta School Boards' Association and Mental Health Commission of Canada (June 3 and 4).
Posted on