2019 NLPS STEAM Challenge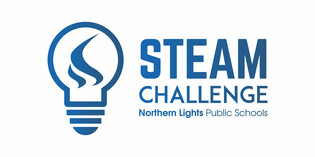 Over 325 students from throughout Northern Lights Public Schools will gather at the Bold Centre in Lac La Biche on Thursday, April 11 for the 2019 NLPS STEAM Challenge.
The students in grades 6 to 9 will compete in teams of five to solve three challenges using their Science, Technology, Engineering, Arts and Math skills. Last year's challenges included constructing an arm out of newspaper that could hold coins in a bucket, building a marble roller coaster, and constructing a paper airplane that could transport an egg without breaking it.
"Our students look forward to this event every year," said Board Chair Arlene Hrynyk. "It gives them an opportunity to apply what they are learning in their classrooms, have fun, and meet other students from across the division."
Northern Lights is fortunate to receive support from community partners to offer this opportunity to students. Sponsors for this year's event include Britton's Your Independent Grocer, Canadian Natural, Cenovus, Devon Canada, EDCON Power Tongs, Enbridge, Imperial, Thinkwerx, Bonnyville Nouvelle, boom 103.5, boom 95.3, and Kool 101.3.
"We are so grateful that our partners recognize the importance of offering an opportunity like this to our students," said Hrynyk. "We appreciate their continued support and commitment to the STEAM Challenge."
Posted on