Executive Functioning - August 2021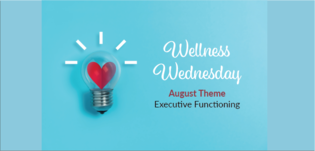 Welcome to the August edition of Wellness Wednesday! 
Our Successful Families, Successful Kids wellness coaches have enjoyed meeting students and families this summer during their Pop Up events at local school playgrounds. As we prepare to make the transition Back to School, the theme for August is Connections and the resources we are sharing focus on helping students build their executive functioning skills.
Back to School and Mental Health
Mental health continues to be a priority for Northern Lights Public Schools. We know Back to School can be a stressful time for students and their families, so we have updated our Back to School Mental Health checklist to help families focus on things that can help reduce stress and anxiety at this time of year. You can find the checklist on our website: Family Back to School Mental Health Checklist.
Executive Functioning Resources
Minute to Win It
This resource developed by our SFSK Wellness Coaches features fun games that friends or families can do together. These games help enhance executive functions that we do every day such as task initiation, working memory, focused attention, impulse control, problem-solving, task management, and critical thinking.


Strengths Chain
This resource from understood.org will help children and youth identify their strengths and set goals.


Activities Schedule
This resource developed by our SFSK Wellness Coaches provides youth with a template to plan and schedule their time.


Brain Games
Strategies developed by Easel Lab to help build executive functioning skills in children and youth.
Picture Schedules for Daily Routines
This resource from understood.org, provides printable schedules families can use to create routines for everything from getting ready for school to cleaning up children's rooms.
VIDEO: What & Why Executive Functions
This video from Committee for Children reviews why executive function skills are important for childhood development.
More Resources
Over the summer, we updated the Mental Health and Wellness section of our website, adding more resources for our students and their families. If you are looking for activities to do with your children prior to the start of the school year, or are looking for more information on a mental health topic, please check out these pages of our website:
Posted on