Preparing for Change - June 2021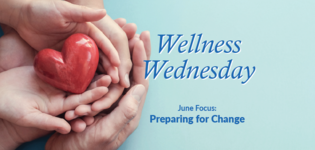 Welcome to the final Wellness Wednesday of the 2020-2021 school year. This is the time of year when we start preparing our students for the next school year. For our youngest students, this means preparing them for preschool and kindergarten and all of the new routines and people they will meet. For our older students, we focus on moving on to a new grade with a new teacher and sometimes to a new school. In a year which has already included many changes, our students may feel more anxious about what next year looks like and what they will need to do to adapt to new surroundings and routines. So during the month of June our Mental Health Team (Student Advocacy Counsellors and Successful Families, Successful Kids Wellness Coaches) will be focusing on Preparing for Change.
The resources below can be used by families to help students prepare for and cope with change. We would also like parents, guardians and students to go to our Engage NLPS site and share your Stories of Hope or ideas for spreading hope in our communities. This engagement will be running all summer and we encourage you to read what has been submitted and connect with each other.


Preparing for Change Resources

Preparing for Change Activities

Posted on