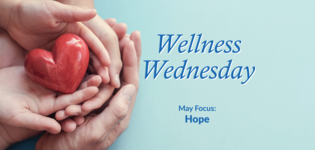 Our Wellness Wednesday for the month of May focuses on Hope. This is an extension of the It Starts with Hope theme that we had for Mental Health Week (May 3-7) and will be one the primary themes of our Division Priority #1 - improving student mental health and wellness.
Our Mental Health team (Student Advocacy Counsellors and SFSK Wellness Coaches) will be focusing on Hope with students this month. The resources below can be used by families to learn more about hope and the things they can do to support others.
We also encourage you to check out our Signs of Hope engagement on our Engage NLPS site. There are many ideas for things you can do to spread hope in your community, as well as an area where you can share your Stories of Hope and read stories submitted by others.


Hope Resources

Hope Activities
Journaling Prompts
Please note that grade levels are included below only as a guide. Feel free to complete any prompts that you feel are applicable to you or your children. Prompts can be completed individually or used to start a family conversation.
Grade K to 3
Grade 4 to 6
Grade 7 to 9
Grade 10 to 12

Adults
More Mental Health and Wellness Resources are available on our website, including COVID-19 resources, Successful Families, Successful Kids resources for families, and our Mindful Minutes videos!
Posted on