Safe Arrival expanding in September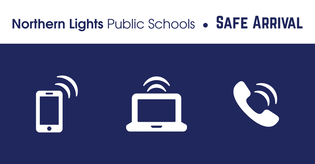 Starting in September, all parents in Northern Lights Public Schools will have new options for reporting student absences.
Safe Arrival was piloted in Bonnyville in the spring of 2019 and will be expanding to the rest of the division for the 2019-2020 school year. The new system reduces the time it takes to verify student attendance, makes it easy for parents to report absences, and easier for staff to respond to unexplained student absences.
With SafeArrival, parents will have three options to report an absence:
School Messenger App

Log in to the School Messenger app and choose Attendance from the drop down menu on the left-hand side of the screen, then click on the Report an Absence button in the lower right-hand corner

School Messenger Online


In a web browser, go to go.schoolmessenger.ca, log in and choose Attendance from the drop down menu on the left-hand side of the screen, then click on Report an Absence in the top right-hand corner



Call 1-833-288-7008 toll-free and use our Safe Arrival system to report your child's absence.
These options are available 24 hours/day, 7 days a week. Future absences can be reported at any time. So, for example, if you book a medical appointment for your child three months in advance, you can log in to School Messenger and report that absence right away, instead of waiting until the day of the appointment to call the school.
Parents also still have the option to call their child's school directly and leave a message. Please note that unless otherwise indicated by your child's school, we do not monitor social media or email for absence notifications. If you report your child's absence using those methods, we may not receive it.
All of our schools will use the SchoolMessenger Communicate automated notification system to contact parents whose child is absent when the absence was not reported in advance. The automated notification system will attempt to contact parents at multiple contact points until a reason is submitted for the absence. If our system is unable to reach the designated contacts, office staff will follow up.
If you report your child's absence in advance using the SafeArrival toll-free number, website or mobile app, you will NOT receive these notifications.
Instructions for Reporting An Absence in the School Messenger App
In the attendance section of the School Messenger app, parents can report an absence by:
Clicking on the Report an Absence button
Select the student who will be absent
Select the length of the absence - your choices are

Full Day,
Late,
Early Departure,
Leave and Return and
Multiple Day

Type of Absence - your choices are

Buses not Running
Illness or Injury
Medical Appointment
Vacation
Religious Holiday
Funeral
Sporting Event
Personal or Other Reason

Click on the Date of Absence to select the date
You will receive confirmation that your absence has been submitted.
Posted on