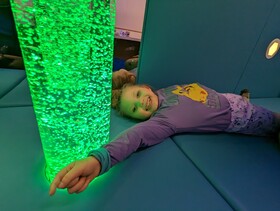 Over the next three years, Northern Lights Public Schools will be investing $800,000 in creating sensory rooms in every school in the division.
"A sensory room provides students with a calm and comforting space to help them self-regulate," explained Grace MacLellan, the division's Director of Inclusive Education and Community Supports. "This is a universal support designed to be used proactively to support students' needs (like stress and anxiety) and not reactively."
North Star Elementary School in Cold Lake and Vera M. Welsh Elementary School in Lac La Biche were the first schools in the division to have their sensory rooms completed this year. 
"Our sensory room at Vera M. Welsh has always been a place to support students in learning self-regulation skills and strategies. With the addition of our new equipment, student learning and opportunities have been greatly expanded," said Cheryl Kuraitis, Assistant Principal of Vera M. Welsh Elementary School. "OUr students are excited about the new bubble tube, aurora borealis lights, fibre optic lights, gears and squeeze machine. An enjoyable highlight is the vibrating bench and marble wall that beats along to their favourite songs! We are grateful that our students have access to more opportunities to explore calming and stimulating activities."
Sensory rooms can be used in a variety of different ways. Some students use them for some quiet time alone to calm themselves. Others may want an adult or another student to keep them company or help them with a breathing technique or another calming strategy. Students can also choose to interact with equipment or items designed to engage their senses and help them self-regulate. This could include everything from colouring or playdough, to looking at a bubble light or listening to nature sounds. 
"Every student has a different sensory profile," explained MacLellan. "We are helping develop resiliency and autonomy in students by providing a space for them to go with options to help them learn to self-regulate their emotions, stress or anxiety, all without the feeling of being isolated or punished. It is a beautiful space that they want to go to." 
Each sensory room will look different depending on the grade configuration of the school and what items are included for students. For example, sensory rooms in high schools sometimes include water features, music options and furniture that is different from elementary schools. 
Sensory rooms are being developed at two more NLPS schools this year (2022-2023): Aurora Middle School in Lac La Biche and Bonnyville Centralized High School in Bonnyville. Other schools in the division are scheduled to have their sensory rooms created in 2023-2024 or 2024-2025.
The development of sensory rooms in the division's schools is just one of the actions the division is taking to improve student mental health and wellness, a priority identified in the NLPS Three-Year Education Plan after extensive consultation with stakeholders. Additional strategies are outlined in the division's Mental Health and Wellness plan.