New Principal for Learning Together Anywhere School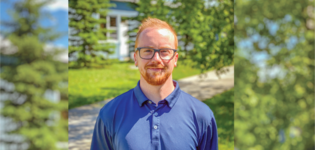 Northern Lights Public Schools is pleased to announce that Brandon Isert has been appointed Principal of the new Learning Together Anywhere School for the 2021-2022 school year.
"Brandon has shown great flexibility and adaptability as a leader throughout his time with NLPS," said Superintendent Rick Cusson. "He has consistently demonstrated a commitment to exploring new ways to connect with and inspire students, as well as expanding his own knowledge and skills to enhance learning opportunities in the classroom."
Isert was part of the administration team that developed and implemented the Learning Together Anywhere program, which was created to provide families throughout NLPS with an online learning option for the 2020-2021 school year. Due to continued interest in this option, the program has been converted into its own school starting in 2021-2022 and enrolment will be opened to students from across Alberta. Prior to serving as the Assistant Principal for the LTA program, Isert taught Grade 6 at Art Smith Aviation Academy in Cold Lake and Grade 4 at Duclos School in Bonnyville.
"I am honored to accept the position of Principal for the new Learning Together Anywhere (LTA) School. My previous experience as the Assistant Principal for the LTA program and as a teacher with Duclos School in Bonnyville and Art Smith Aviation Academy (ASAA) has allowed me to develop a unique skill set as an educator in grades 1 through 8 and as an administrator in an online program," said Isert. "Under the mentorship of the ASAA admin team, Chris Vining and Andrea Farrell, I have also been challenged and supported while taking on leadership opportunities over the last three years. I am excited about the possibilities that an online school can bring to our Northern Lights Public Schools families and that it is another positive step towards our mission to help every student learn and excel across the Lakeland."
Posted on