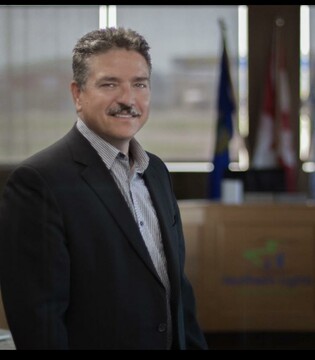 Northern Lights Public Schools is pleased to announce that Mark Centazzo has been appointed Principal of Bonnyville Centralized High School (BCHS) for the 2020-2021 school year.
"I am very excited to be joining the BCHS staff and look forward to working with them again this fall at the C2," said Centazzo. "I'm pleased to be able to contribute to the great work the staff does serving the Bonnyville school community. I am also really looking forward to being a part of the 'return home' to the newly renovated BCHS building in the coming school year."
Centazzo has served as the division's Dual Credit Co-ordinator since 2015. During that time, he oversaw the operation of the division's Trades Exposure Centre and Service Rig Training Program, co-ordinated the annual Trades and Industry Carnival, co-facilitated the division's Student Voice initiative, and developed relationships with post-secondary institutions to enhance dual credit opportunities for students as well as training opportunities for staff. In January and February 2020 he also served as Acting Principal at BCHS.
"Mr. Centazzo is an experienced administrator who is committed to building relationships with all stakeholders to ensure students have the support and resources they need to be successful," said Superintendent Rick Cusson. "His knowledge of programming for students and connections with our post-secondary partners will be an asset as we maximize the opportunities presented by the modernization of BCHS."
Posted on