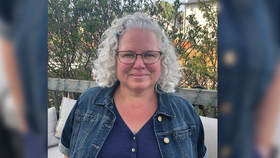 Northern Lights Public Schools is pleased to announce that Andrea Farrell has been appointed Principal of Art Smith Aviation Academy for the 2021-2022 school year.
"Andrea is an experienced, student-focused administrator who has demonstrated a strong commitment to empowering staff and families with the knowledge they need to support students together," said Superintendent Rick Cusson. "Art Smith families will continue to benefit from her leadership in her new role."
Farrell's career with Northern Lights began in 2000 at Ardmore School, where she taught a variety of grades (2, 3, 5, 6, 7 & 9), and was the school's Student Support Team Coordinator. She then spent five years teaching at Cold Lake High School, before moving into a division leadership position as Lead Teacher Behaviour Supports, supporting students by developing professional learning opportunities for staff and building relationships with community partners. In 2015, she was appointed Assistant Principal of Art Smith Aviation Academy. While serving as Assistant Principal, she earned her Masters of Educational Leadership from the University of Alberta.
"I am excited to jump into this new adventure with a community I have enjoyed supporting for the last few years. I am thrilled to be leading our students, their families and our staff in the next few years," said Farrell. "I can't wait to be Principal Farrell! I am lucky Mr. (Chris) Vining has been my mentor, preparing me all this time to lead this amazing team who truly love our kids and our jobs."