New Assistant Principal for North Star Elementary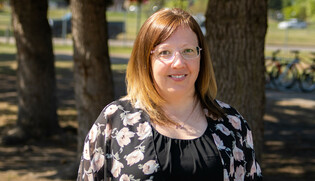 Northern Lights Public Schools is pleased to announce that Erin Bowering has been appointed Assistant Principal at North Star Elementary School in Cold Lake for the 2023-2024 school year.
"Erin is committed to creating a caring, safe and welcoming learning environment where all students can be ready to learn and excel," said Superintendent Rick Cusson. "Through building relationships with families, students, staff and the community, she provides support to students that allow them to become lifelong learners."
Ms. Bowering joined the team at North Star Elementary in 2017 as a Grade 2 teacher. In 2021, she became the school's Student Support Team Coordinator, working collaboratively with students, staff and parents to ensure supports are in place to meet students' needs. She has a Bachelor of Education from the University of Alberta with a minor in Special Education.
"I am very excited to be continuing my journey at North Star Elementary School. Joining a strong team of administrators in a new capacity at NSES will strengthen my leadership abilities and increase my knowledge of how to best assist all of our students and staff with the ongoing changes in education," said Ms. Bowering. "I look forward to continuing my work with the incredible staff in our school while maintaining connections with students and families as well as those who assist us in our community. The sky's the limit when we love, laugh and learn together."
This is a new administrator position created as part of the configuration changes made at NLPS schools in Cold Lake. The final configuration changes will take place in 2023-2024 with North Star becoming a K-6 school. Prior to the configuration changes, it was a K-3 school.
Posted on