Back to News
Board Selects Alex Ryl as 2023 Edwin Parr Award Nominee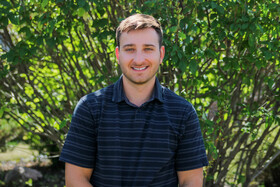 The Northern Lights Public Schools Board of Trustees is pleased to announce that it has selected Alex Ryl as the Division's nominee for the Edwin Parr Award for outstanding first-year teachers.
Mr. Ryl joined the staff at Kikino School at the beginning of the 2022-2023 school year, teaching Grades 7 and 8. 
"I was a little overwhelmed at first, when I learned that the Board had chosen me as their nominee," said Mr. Ryl. "I'm very honoured that the Division has selected me to represent Kikino and Northern Lights throughout this process."
Ryl grew up and attended school in the Lac La Biche area before entering the Correctional Services Program at MacEwan University in Edmonton. From there, he attended Royal Roads University in Victoria before working as a corrections officer at the Edmonton Remand Centre. 
"I felt that I needed to switch gears, and later found my passion in education," he said. "I received my After Degree in Education from King's University, and right after that I joined the staff at Kikino School."
Kikino School Principal Laurie Thompson, who initially nominated Alex to the Board for the Edwin Parr Award, said that he has been a wonderful addition to the Kikino family, and that his history as a corrections officer gives him a valuable and unique perspective as a teacher at Kikino School. 
"What Alex brings to our team is a direct, experiential lens into the corrections system," Ms. Thomspon said. "It is no secret that the justice system in our province is over-represented with Indigenous people. Bringing Alex on board has given us the opportunity to work together to disrupt that flow, and to create new opportunities for our young Indigenous learners at Kikino School to imagine a different future."
Ms. Thompson also said that the students at Kikino look up to Mr. Ryl, and have a deep admiration and respect for him. "He's a male role model that is able to present different opportunities and viewpoints to the students," she said. "He shows them that they can become educators early on. And, in turn, they can also see how Alex is learning and growing with our Elders and with our community."
"Alex has proven himself to be an exceptional teacher who demonstrates passion, empathy, and understanding," said Board Chair Karen Packard. "He is a great role model for the students at Kikino School and is dedicated to helping them reach their full potential. We are thrilled to have Alex as part of the Northern Lights Public Schools team and are looking forward to his continued success."
The Board of Trustees would also like to congratulate Ruselyn Magtolis, who was also put forward as Edwin Parr Award candidate by the staff at Kikino School. 
Each school board in Alberta is eligible to nominate one outstanding first-year teacher for the Alberta School Boards' Association's Edwin Parr Award. A winner is selected from each Zone (NLPS is part of Zone 2/3 which selects two winners), and all six zone winners are recognized at the ASBA's Fall General Meeting.