2020 Friends of Education Award - Don and Tina Luciak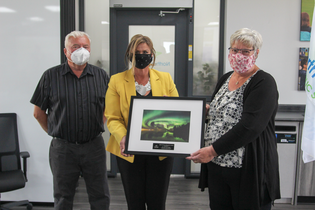 The Northern Lights Public Schools Board of Trustees recognized Don and Tina Luciak for their long-term commitment and contributions to Glendon School with a 2020 Friends of Education Award, presented at the Board's meeting on Wednesday, September 15.
"Your generosity and contributions to our students and staff have not gone unnoticed," said Board Chair Arlene Hyrnyk. "We appreciate all of the time and energy you have invested in making sure our students and staff were well taken care of."
Don and Tina Luciak were nominated by Glendon School for the many contributions they have made to the school and community over 35 years. Tina served as president of the school's parent council while her children were in school, and tutored many students. She even attended conferences and seminars so that she could learn how to better support the students she helped. Together, Don and Tina organized many school events and prepared and served many, many meals to students, staff and families. Don also took the training required to drive a school bus so he could provide transportation for students to go to sporting events and field trips.
In 2018 Tina took on the lead role of the school's Apple Schools Free Hot Lunch Program. Always supported by Don, she would drive to St. Paul every Monday to collect food from Second Harvest for the program. On Tuesdays, a network of volunteers that she cultivated, gathered to wash, cut and prep the food, which was transformed into meals for students and staff for lunch on Thursdays. Often Tina and Don donated ingredients to supplement the meals so students would have a variety of foods to choose from.
In March 2020, when schools were closed due to the pandemic, Tina made sure that all the food in the school's fridges and freezers was distributed to families in need, personally delivering it to each home.
"We are so thankful for everything that Don and Tina have done for our school over the years," said Glendon School Principal Maureen Ference. "They have made an enormous impact on multiple generations of our students through the relationships they built and the example they set for others."
This is the second 2020 Friends of Education Award that NLPS has presented. TC Energy was recognized in February, and two more awards are scheduled to be presented at the October 13th Board meeting.  2021 Friends of Education Awards are also scheduled to be presented at the September 29th and October 13th Board meetings.
Posted on