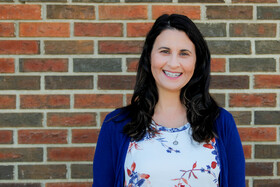 NLPS is pleased to announce that Larissa Langevin will be joining the division office team as its new Director of Learning - Inclusive Education starting in August 2023.
"Larissa has demonstrated success in supporting students' inclusive education needs, and working with stakeholders to ensure all students have opportunities to learn and thrive," said Superintendent Rick Cusson. "In her new role, she will be able to share her knowledge and experience with schools throughout the division to support students and families."
Langevin is currently Assistant Principal of Glendon School. She has worked at the school in a variety of roles, including Principal and Student Services Team Coordinator. In addition, she has worked at the division level as a Special Education Consultant and a Literacy Coordinator for Common Assessments.
"I am excited to serve NLPS students and families through this new role," said Langevin. "I look forward to working alongside the incredible staff and teams throughout the division, as well as engaging with important community partners, as together we explore opportunities to help every student learn and excel."
The hiring of a new Director of Learning - Inclusive Education is part of the division's plan to reconfigure leadership positions to align with division priorities. Due to increasing demand for Inclusive Education services, and the division's focus on Mental Health, the current role of Director of Learning - Inclusive Education and Community Support is being divided. Langevin will assume the Inclusive Education portfolio, while current Director, Grace MacLellan, will become Director of Learning - Student Services.